Sanitary Dryers help to ensure food safety.
Press Release Summary: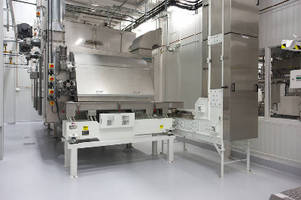 Suitable for food products such as cereals, snacks, fruits, and vegetables, AeroDry Dryers with SD+ option feature one-piece slab roofs and floors that are pitched to one side of machine to eliminate water pooling. Access doors with continuous weld on all seams, combined with surface mounted hinges and handles, provide unbroken barrier against water penetration and bacteria growth. To minimize cleaning time, vertical and horizontal support members have been turned 45°.
---
Original Press Release:

Bühler Aeroglide Announces a New Higher Level of Sanitary Drying with AeroDry SD+



Raleigh, NC, – Food safety and customer collaboration are key components in a new design phase at Bühler Aeroglide that has resulted in an option on the company's popular AeroDry™ product featuring true innovations focused on sanitation and cleanability.



The SD+ option for AeroDry dryers represents a complete redesign of the industry-leading dryer and comes on the heels of an extensive collaboration with over 80% of customers in the breakfast cereal industry, that identified specific sanitation needs. The collaboration was coordinated by Bühler Aer-oglide's internal food safety team to support the challenges customers face with new food safety guidelines.



The SD+ option features include one-piece slab roofs and floors that are pitched to one side of the machine to eliminate water pooling; a comprehensive water management system that directs water and other cleaning fluids out of the dryer; a non-tubular open channel frame design that eliminates water and fines entrapment areas; minimized flat horizontal surfaces, crevices and other collection points making cleaning easier and faster; vertical and horizontal support members that have been turned 45° to further decrease cleaning time; access doors that feature a continuous weld on all seams combined with surface mounted hinges and handles, providing an unbroken barrier against water penetration and bacteria growth; and a number of other design improvements.



"Food safety is critical, and not just for the food processor," says Steve Blackowiak, Food Safety Manager at Bühler Aeroglide. "It's important for an equipment manufacturer to have the same food safety focus."



Features in the new SD+ option optimize dryer performance, operation, and cleaning, allowing food products such as cereals, snacks, fruits and vegetables to be processed at a higher sanitary level, providing food processors with better, cleaner product, all while reducing cleaning time and effort.



"Customers said they need to be able to change over their product lines faster, with no contamination," says Blackowiak. "As a result, we've accommodated these needs in a number of ways that make it easier and faster to clean."



"The SD+ is the result of a company-wide culture focused on food safety, which is a fundamental part of the engineering mentality behind the design of all our products," says Blackowiak. "Food safety has been Bühler Aeroglide's number one concern in system design since 1940 when the company started, and will remain so as we continue to provide innovative solutions that meet the changing sanitary re-quirements of our customers."



The company debuted many of the customer-inspired innovations in a dryer installed in the recently-opened FDA-grade Food Innovation Center at Bühler's Minneapolis headquarters. The new lab allows Bühler customers to run process trials on a complete extrusion line including raw material handling, extrusion, drying, grinding, and bulk packaging.



Bühler is a global leader in the field of process engineering, especially production technologies and services for producing foods and advanced materials. Bühler operates in over 140 countries and has a global payroll of about 8800. In fiscal 2011, the Group generated sales revenues (turnover) of CHF 2131 million.



Buhler Aeroglide is the drying center of competence for the Bühler Group. Headquartered in Raleigh, North Carolina, Buhler Aeroglide maintains sales and service offices in Philadelphia, Pennsylvania; Stamford, UK; and Kuala Lumpur, Malaysia.



For more information, please contact:

Nick Manley

Marketing Communications

Bühler Aeroglide

100 Aeroglide Dr.

Cary, NC USA

Phone +1 919 278 2864

Fax +1 919 851 6029

E-mail nick.manley@buhlergroup.com

More from Machinery & Machining Tools