Sanitary Conveyors withstand washdown environments.
Press Release Summary: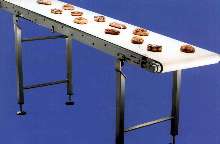 AquaPruf 7200 Conveyors feature 28 mm sealed bearing, belt speed of 300 fpm, and can be cleaned with soap and water using less than 100 psi. AquaPruf 7300 models feature 44 mm sealed bearing and can withstand bleach or chlorine cleaning solutions at up to 1,500 psi. Belt speed is 500 fpm. Suited for food, pharmaceutical, and medical applications, both are stainless steel with 60 lb capacity. Widths range from 2-18 in. and lengths from 2-18 ft in 1/8 in. increments.
---
Original Press Release:

Dorner Unveils the AquaPruf Line


New Sanitary Conveyor Platform Targets Food, Medical and Pharmaceutical Industries

HARTLAND, Wis., (Oct. 3,2003) - Cleansing, Sanitary... and Durable - welcome to AquaPruf.

The AquaPruf line represents the newest platform of sanitary, wash down conveyors from Domer Manufacturing Corporation. Customers in the food, medical and pharmaceutical industries will find AquaPruf conveyors to have the right combination of features and benefits to best accommodate their various applications.

The AquaPruf line consists of the 7200 Series and 7300 Series. Both conveyor platforms are engineered for specific strengths within the food, medical and pharmaceutical industries. AquaPruf conveyors are the lowest profile sanitary conveyors on the market today. These stainless steel conveyors can take high-pressure washings with water, soap, bleach, chlorine, alcohol or foaming chlorine cleaner without the worry of bearings or other important components corroding.

"Dorner has enjoyed a great working relationship with our customers who have been using our sanitary conveyors for years," said Gary Wemmert, director of marketing for Dorner. "The AquaPruf line adds new features and benefits to our conveyors - enhancements our customers have been asking for."

Features of the AquaPruf 7200 include:
o 28mm sealed bearing with FDA Solid Lube - rated at full load for 1 year life of 24 hour-a-day operation with one cleaning cycle per day
o Low pressure wash down of less than 100 psi
o Soap and water cleaning
o Flat belt and cleated belt end drive models
o Widths between 2 and 18 inches
o Any length between 2 and 18 feet in 1/8 inch increments
o 60 pound load capacity
o 300 feet per minute belt speed

Features of the AquaPruf 7300 include:
o Oversized 44mm sealed bearing with FDA Lube - provides extended bearing life in high pressure wash down applications up to 1,500 psi
o Can withstand bleach or chlorine cleaning solutions
o Flat belt and cleated belt end drive models
o Installed with Plastic Clipper Splice as special order
o Widths between 2 and 18 inches
o Any length between 2 and 18 feet in 1/8 inch increments
o 60 pound load capacity
o 500 feet per minute belt speed

Specially Designed AquaPruf Conveyors
For food, medical or pharmaceutical applications that are more unique or don't quite fit with the 7200 or 7300, Dorner's ESP (Engineering Special Products) Program, is the place to start. Dorner's ESP Program is an extension of Dorner that gives the extra needed attention to build AquaPruf conveyors with unique dimensions and characteristics above and beyond the dimensions of Dorner's regular conveyor platforms.

From stands to belts and everything between, accessories help put the finishing touches on AquaPruf conveyors.

AquaPruf Sanitary H-Stands are stainless steel and are available in widths and heights to match AquaPruf conveyors. Additional features include:
o Self aligning adjustment foot for sloped floors
o Adjustment range plus or minus 2 inches
o Optional casters
o Stand assemblies are TIG welded on demand

AquaPruf conveyors are built with encased urethane belting. These FDA approved belts come with added features including:
o High and low friction belts with textured bottom and sealed edges
o Resistant to 212 degrees Fahrenheit
o Minimum pulley diameter as low as 1.25 inches

AquaPruf Stainless Heavy Load Gearmotors are designed to withstand wet applications.

Features include:
o Sealed/Bladder stainless gearhead (Grove)
1. 56C
2. FDA H2 Lubrication
3. 5:1, 15:1 and 50:1
o Two models of stainless motor (Baldor)
1. Fixed speed (208-230/460, 3 phase)
2. VFD variable speed (230V, 10 to 60 hz)
3. 1/2 horsepower, EP55

AquaPruf Heavy Load Sprocket Kit uses stainless steel No. 40 sprockets. Other features include:
o Stainless steel /plastic No. 40 chain
o Compatible with standard and heavy load top and bottom mounts
o Belt speed of 130 feet per minute
o Accommodates wet applications or where foaming chlorine bleaches are used.

Hartland, Wisconsin-based Domer Manufacturing is a world leader in the design, manufacture and distribution of high-quality conveyors and related equipment. Since 1973, companies from around the world have turned to Dorner conveyors for greatly improved efficiency and productivity. For more information about products or company news, visit Dorner's Web site at www.Domer.com or call 1-800-397-8664.

More from Printing & Duplicating Equipment