Sanitary Conveyors feature urethane-encased belt.
Press Release Summary: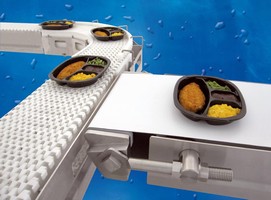 Offered in straight and curve models, AquaPruf 7600 Series has sanitary, open design with rounded cross members and no collection points. Urethane-encased belts will not absorb water or fray, and entire conveyor system can be disassembled, without tools, for cleaning. Available in lengths from 3-40 ft and widths up to 5 ft, product supports loads up to 20 pounds/ft² of belt and operates at speeds to 328 fpm. Nosebar transfer is available in ½, 1, and 1 7/8 in. options.
---
Original Press Release:

Dorner Launches Newest Member of AquaPruf Family of Sanitary Conveyors: the 7600 Series



Fitted with urethane encased belt in both straight and curve models, the 7600 introduces the highest levels of sanitation and fastest cleaning times

HARTLAND, Wis., (July 25, 2006) - Amazing Reliability and Delivery - that pretty much says it all.

Dorner is proud to introduce the latest member of the AquaPruf family of sanitary conveyors - the 7600 Series mainline conveyor platform.

The 7600 Series represents the latest engineering designs to provide the highest level of sanitation on the market today, and the fastest cleaning times for wash-down conveyors in the industry. The entire conveyor system can be disassembled for cleaning, without tools, in only 30 seconds. Using the 7600 Series means less equipment downtime for cleaning and a higher return-on-investment for customers in industries such as bakery/snack foods, confectionary, ready-to-eat foods, raw meat, raw poultry, raw seafood, pharmaceutical and clean rooms.

A prominent feature of the 7600 Series is its urethane-encased belts that will not absorb water or fray. These features are critical in food and pharmaceutical applications as they prevent the growth of mold on the belt and edges from becoming frayed and mixing into passing product.

The 7600 Series' frame is engineered to be extremely safe for employees to work around. Additionally, the frame's sanitary, open design features no collection points for food particles and rounded cross members for reduced clean-up time. Built for durability, the 7600 Series can take high-pressure washings with water, soap, bleach, chlorine, alcohol or foaming chlorine cleaner without the worry of bearings or other important components corroding.

Engineered for tight spaces, the 7600 Series' low profile design can be positioned in and around equipment where other conveyors cannot fit. The conveyor series can also handle very small product transfers easily and efficiently with a variety of nosebar transfer options.

"The AquaPruf platform is now complete with both chain and belt conveyor models, and is available in straight and curves," said John Kuhnz, food-marketing manager for Dorner. "Customers can look at Dorner's AquaPruf family of conveyors and devise a mainline sanitary conveyor system to fit virtually any application."

Other features of the new 7600 Series include:
· Available in straight or curve design
· Tool-less tip-up pulley for quick release of belt tension and fast cleaning
· Tool-less disassembly for fast cleaning
· Belt tension system with welded bearing support for tensioning and tracking with ACME threads
· V-Guided belting for positive belt tracking
· Nosebar transfer available in ½", 1" and 1 7/8" options for small product handling
· Solid UHMW wear strips can be quickly removed without tools for cleaning
· Stainless steel bed plate for continuous support
· Belt scraper available for continuous belt cleaning
· Stainless steel gear motor located outside food zone
· Center drive option for dual nosebar transfers and increased end clearance
· Frame cutouts for continuous access to the inside of the conveyor
· 400 Series stainless steel bearings filled with H1 FDA lubricant and mounted in cast stainless steel housings for maximum performance in washdown environments
· Loads up to 20 pounds per square foot of belt
· Lengths between 3 and 40 feet
· Widths up to 5 feet
· Speeds up to 328 feet per minute

The AquaPruf brand debuted in October of 2003 with the 7200 and 7300 Series. The next conveyor platform in the AquaPruf family, the 7400 Series, launched in April of 2005. Together, the AquaPruf family of sanitary conveyors is designed to meet any application in virtually any environment.

Engineering and building conveyors, such as the AquaPruf 7600 Series, are values customers receive when doing business with Dorner and it further enhances the company's commitment to being truly responsive

Hartland, Wisconsin-based Dorner Manufacturing is a world leader in the design, manufacture and distribution of high-quality conveyors and related equipment. Since 1973, companies from around the world have turned to Dorner conveyors for greatly improved efficiency and productivity. For more information about products or company news, visit Dorner's Web site at www.dorner.com or call 1-800-397-8664.

More from HVAC