Sanitary Cone Mill processes sticky, moist, fragile materials.
Press Release Summary: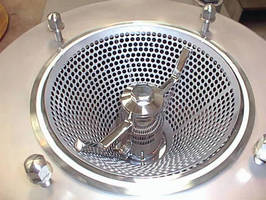 Constructed of 304 or 316 stainless steel to sanitary standards, Kek-Gardner Model CM540 Sanitary Cone Mill delivers gentle, low-energy size reduction while achieving even particle distribution with minimal fines. This smooth, moderate action alleviates such problems as product build-up, dust, and heat generation. Conical screens are offered with apertures from 150 micron, for fine/dry de-agglomeration, up to 25 mm, including square and rectangular perforations, for wet granulation.
---
Original Press Release:

Sanitary Cone Mill for Sticky, Moist, Fragile Materials



MILLBURN, NJ – A new Kason Kek-Gardner Model CM540 Sanitary Cone Mill delivers gentle, low-energy size reduction while achieving even particle distribution with minimal fines.  It is suitable for de-lumping of dried or hygroscopic materials that have agglomerated due to dampness or compaction, for intermediate sizing of "wet mass" product for improved drying and granulation prior to tableting, and for regrinding of out-of-spec tablets to be reintroduced to the tableting process.



Its smooth, moderate action alleviates traditional milling problems of product build-up, dust and heat generation, enabling it to process fatty, heat sensitive, sticky, moist or fragile products.



Intended for pharmaceutical, food and chemical applications in which contamination must be avoided, the mill provides consistent results within fine limits.



Material is fed by gravity or pneumatically into a central milling chamber in which a rotating impeller accelerates it centrifugally against and through apertures in a conical screen, and then into a receptacle below the milling chamber.  Conical screens can be changed rapidly, and are offered with apertures from 150 micron for fine/dry de-agglomeration, up to 25 mm including square and rectangular perforations for wet granulation.



Constructed of #304 or #316 stainless steel to sanitary standards, the mill can be cleaned wet or dry, and is available configured for CIP, SIP or filling with liquid during cleaning.  Provision is included for air purging of bearings and seals where required. Other options include top, bottom and remote drives, high-containment and glove box designs, construction of special alloys, and mobile designs.



Other models range in diameter from 3 in. (75 mm) for laboratory applications to 27 in. (680 mm) for production capacities up to 25 tons/h depending on application.



The company also manufactures air classifier mills, universal mills, lump breakers, centrifugal sifters, round vibratory screeners, fluid bed dryers/coolers/moisturizers, static sieves, ribbon/paddle/plough blenders, vertical mixers, and double-cone and vee-cone blenders.



For information contact:

Kason Corporation

1-973-467-8140

info@kason.com

www.kasonkekgardner.com

More from Chemicals & Gases