Sanitary Clamps meet pharmaceutical and biotech needs.
Press Release Summary: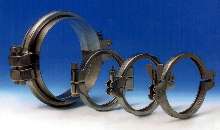 Series SH Type I Clamps are 316 stainless steel and come in 12 OD sizes from ½-12 in., with hinged or 2-bolt closure. Series SSH clamps are 304 stainless steel and available in 8 OD sizes from ½-6 in. They handle higher-pressure applications; up to 1450 psig at 100°F and 983 psig at 450°F. Third version, for pressure vessels, is ASME and BPE rated with 5 sizes between 4-12 in. Ratings range from 69 psi for 12 in. version at 450°F to 725 psi for 4 in. version at 100°F.
---
Original Press Release:

Precision-Fit Clamps Meet Pharmaceutical and Biotech Needs


A new series of sanitary clamps are designed and precision-manufactured for sanitary service. Specifically intended to meet the demanding requirements of pharmaceutical and biotechnology research and processing, they are rated for applications at temperatures up to 450°F (232°C) and high pressures. All are available in stock from L.J. Star Inc.

These new clamps provide uniform gasket compression with quick access to the joint for cleaning and inspection, and with no sacrifice of safety. Offered in three configurations, they are made by investment castings with a superior surface finish and all feature a unique groove profile for higher clamping efficiency.

The SH Type I version, standard in 316 stainless steel, is available in 12 OD sizes ranging from 1/2-inch to 12 inches, with either a hinged or two-bolt closure. It is equipped with an oversized wingnut providing quick, precise torquing during assembly and disassembly, or with a hex-nut configuration providing even greater precision and a more compact assembly.

The SSH version, standard in 304 stainless steel with 316 as an option, is available in eight OD sizes ranging from ½-inch to 6 inches are designed for higher-pressure applications, up to 1450 psig at 100°F (37.8°C) and 983 psig at 450°F (232°C).

The third version, for pressure vessels, is ASME and BPE rated with five sizes between 4 inches to 12 inches. Ratings range from 69 psi for the 12-inch version at 450°F to 725 psi for the 4-inch version at 100°F. All components of these clamps are made from fully traceable 316 stainless.

Available gasket materials include EPDM, Viton, Teflon, Silicone, Buna-N and more.

To obtain additional information, contact L.J. Star Incorporated, P.O. Box 1116, Twinsburg, OH 44087. Phone: 330-405-3040. Fax: 330-405-3070. Email: view@ljstar.com. Or visit our web site: www.ljstar.com

More from Test & Measurement