Sandisk's Write Once Read Many "WORM" SD Card Stores Images for up to 100 Years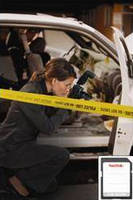 SanDisk SD WORM Cards Ship In Volume To Japan's Police Force-Ideal
For Capturing and Archiving Forensic Images

o Tamper-proof image capture and archiving assures the accuracy and legitimacy of forensic evidence

o Stores data files safely for up to 100 years*

o Obsoletes need for film and enhances digital photography for evidence collection and other applications

Milpitas, Calif. - SanDisk Corporation (NASDAQ: SNDK), the global leader in flash memory cards, today announced that it is shipping in volume its 1 gigabyte (GB)1 SanDisk® SD(TM) "write once read many" (WORM) cards to Japan's police force. Police in Japan have implemented the SanDisk SD WORM card as the storage media of choice for tamper-proof forensic image archiving.

Using the SanDisk SD WORM card, law enforcement officers can create unalterable, permanent photographic records that serve as resources during investigations or as potential evidence during trials. Officers simply insert the card into an SD WORM-compatible digital camera and begin capturing images. Later, they can transfer the images to a computer while maintaining unchangeable originals on the WORM card - ensuring that the justice system has access to evidence of indisputable accuracy.

"Japan's police force is one of the world's largest and most respected law enforcement agencies, and a leading adopter of cutting-edge technologies," said Christopher Moore, director, product marketing, SanDisk. "Working closely with police around the world and our partner camera vendors, we have created a one-step system for tamper-proof data acquisition and archiving. This essential memory solution greatly simplifies the digital evidence handling process while exceeding the government's requirements for data integrity and longevity."

Traditionally, forensic images have been stored on 35mm film, which degrades over time, is slow, inconvenient and increasingly difficult to procure. In Japan, where there is no statute of limitations for certain serious crimes, the ability to retain evidence for many decades is a must. In comparison, digital storage on the SanDisk SD WORM card offers a fast, convenient and readily available alternative.

The SanDisk SD WORM card meets the new archival demands for mobility, long-term preservation, data integrity and ease of use. SanDisk's proprietary SD WORM controller technology instantly protects any files written to the device, preventing the alteration or deletion of stored data. The card stores files safely for up to 100 years*, as shown by accelerated data retention internal testing, and delivers a lower total cost of ownership compared to other archival media.

Ideal for Law Enforcement Agencies Worldwide

Japan's police force is one of the first major agencies to adopt this solution, and other law enforcement organizations around the world are qualifying the product as its features are universally valued for securing digital evidence.

"Tamper-proof storage protects law enforcement officers by guaranteeing the legitimacy of evidence that we collect and deliver to the district attorney," said Jim Shirk, Captain, Twin Cities Police Authority, Larkspur, California. "An unalterable and highly reliable archive eliminates the chance of accidentally deleting a crucial file, and ensures that evidence is accessible over a long period of time. Adopting this type of storage as our standard archiving media is a necessary step in maintaining a modern and effective police force."

Any SD-compatible device can read SD WORM cards, but only hosts with SD WORM-compatible interfaces can write to the card. SanDisk continues to work with leading makers of imaging, audio and video recording devices to implement SD WORM compatibility.

The SanDisk SD WORM card is available worldwide in a 1GB** capacity, with pricing dependent upon the quantity ordered. The cards can be purchased through SanDisk's network of OEM distributors and representatives, or by contacting OEMSales@sandisk.com.

Beyond forensic image archiving, SanDisk expects its SD WORM technology to be widely adopted in crucial applications such as audio recording and long-term retention of legal documents and medical files. For more information, visit sandisk.com/sdworm.

About SanDisk

SanDisk Corporation is the global leader in flash memory cards - from research, manufacturing and product design to consumer branding and retail distribution. SanDisk's product portfolio includes flash memory cards for mobile phones, digital cameras and camcorders; digital audio/video players; USB flash drives for consumers and the enterprise; embedded memory for mobile devices; and solid state drives for computers. SanDisk is a Silicon Valley-based S&P 500 company, with more than half its sales outside the United States.

More from Electronic Components & Devices