Samsung Galaxy Tab Active2 Tablet features multiple charging cradles.
Press Release Summary: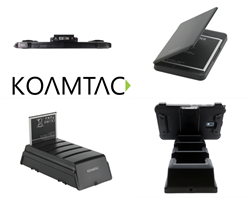 Samsung® Galaxy® Tab Active2 Tablet comes with accessories such as the IP65-rated KDC470 bluetooth barcode scanner, an integrated charging SmartSled® case and battery chargers. Scanner supports 1D and 2D barcodes and offers resistance against dust, water, temperatures and drops. Product is suitable for industrial workers and offers storage compartment for charging the 4450mAh battery. Tablet provides 5-slot battery charger.
---
Original Press Release:
KOAMTAC, Inc. Enhances Samsung Galaxy Tab Active2 with Data Collection and Charging Accessories
As a Samsung enterprise solution partner, KOAMTAC brings the power of data collection and unique charging solutions to increase business applications of the Galaxy Tab Active2.
KOAMTAC®. Inc., leader in Bluetooth® data collection and payment solutions, reveals line of data collection and charging accessories for the brand new Samsung® Galaxy® Tab Active2 tablet. The accessories include the IP65-rated KDC470 Bluetooth Barcode Scanner, an integrated charging SmartSled® case, in addition to multiple Charging Cradles and Battery Chargers.
The Samsung Galaxy Tab Active2, just announced today, is the latest business-grade tablet from Samsung ideal for any industrial worker. Increased protection from dust, water, temperature changes, and drops make it the premier rugged business-grade tablet.
"There is a constant need for field, warehouse, construction, and delivery workers to not only have a rugged tablet, but to also be able to efficiently and dependably collect data," said Dr. Hanjin Lee, President and CEO of KOAMTAC. "We began answering this by returning to our roots of barcode scanning and expanded our accessories line for the Tab Active2 to include diverse charging options to suit a variety of work environments."
KOAMTAC's KDC470s support 1D and 2D barcodes, features a rechargeable and removable battery, and is resistant to dust, water, temperatures, and drops. The KDC470 attaches to the Tab Active2 via a custom SmartSled case allowing both devices to charge at the same time and increasing security of data transfer via direct connection. Future enhancements include RFID and payment modules for increased methods of data collection.
The KDC470 and Tab Active2 can simultaneously charge via a 1-slot or 4-slot Charging Cradle. KOAMTAC also created a single battery charger and storage compartment for on-the-go charging of the 4450mAh battery used in the Tab Active2. A 5-slot battery charger can also be extended in fives for enhanced and efficient charging. Should the need arise to charge multiple Tab Active2s without a KDC, KOAMTAC has developed a 2-slot Charging Cradle able to expand to 4-slots with an adaptor.
KOAMTAC is developing custom applications via their enterprise application solution KOAMTACON which will be available, free of charge for one year to all KDC customers.
The KDC470, SmartSled Charging Case, Charging Cradles, and Battery Chargers can all be purchased directly on the KOAMTAC store or by calling 609-256-4700.
About KOAMTAC, Inc.
KOAMTAC, Inc. has its headquarters in Princeton, New Jersey and produces a signature line of lightweight, ergonomically friendly Bluetooth barcode scanners. KOAMTAC is also dedicated to environmental conservation, while maintaining the quality expectations of its consumers. With its unique patented design, all KOAMTAC products reduce the carbon footprint for the industry and provide consumers with a durable and enhanced solution. All products are universally compatible across current technology platforms, and offer seamless use with all smart devices. The KDC20, KDC30, KDC100, KDC200, KDC250, KDC270, KDC300 and KDC350 are the world's smallest and lightest programmable barcode data and card readers with a display on the market today. The KDC400 series (including KDC470) consists of patent-protected modular accessories for single-handed utility. The KDC500 is an EMV/MSR/Barcode/NFC Mobile POS Companion. For additional information or to place an order, visit http://www.koamtac.com, email the team at marketing@koamtac.com or call 609-256-4700.
More from Packaging Products & Equipment