Sample Heater increases lab process flexibility.
Press Release Summary: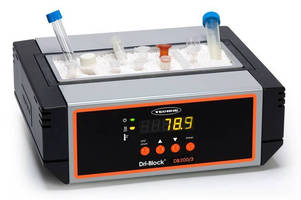 Designed to assist biological laboratories, Flexi-block can heat biological or chemical laboratory samples from ambient up to 200°C, even when stored in 0.2, 0.5, 2.0 or 5.0 ml micro tubes, or any diameter test-tube, vial, cuvette, or micro plate. Flexibility lets researchers heat any sample, regardless of container or type, without changing or recalibrating instruments. Range is enabled by incorporation of 1.5 ml dia autoclaveable beads manufactured from high-density ceramic.
---
Original Press Release:

New Flexi-block Accessory from Techne Delivers New Efficiency in Sample Heating



Staffordshire, UK:  Techne, a Bibby Scientific brand, has launched its latest offering to assist biological laboratories tasked with heating biological or chemical laboratory samples. The new Flexi-block accessory can heat almost any sample from ambient temperature up to 200°C, including those stored in 0.2ml, 0.5ml, 2.0ml and 5.0ml micro tubes and any diameter test-tube, vial, cuvette or micro plate. This flexibility means laboratories can achieve new levels of efficiency, as researchers are able to heat any sample, regardless of container or type, without having to change or recalibrate instruments.



The Flexi-block's broad range is made possible by the incorporation of 1.5ml diameter autoclaveable beads. Manufactured from high density ceramic, these exhibit high mechanical strength and are an excellent thermal transfer medium. This outstanding flexibility eliminates the traditional limitation of aluminium heating blocks - their specificity to a particular type of tube, multi-well plate or glass vial.



Flexi-block is unique, economically priced and come in two variations: double-width or a larger triple-width version for high throughput heating and incubating applications as well as sensitive analytical procedures. Flexi-block brings a new dimension to Dri-block® heating applications and is compatible with any 2 or 3 block Techne® Dri-block® heater.



More information is available here.



www.bibby-scientific.com



About Bibby Scientific

One of four new companies established by Nova Capital from the former Barloworld Scientific business, acquired in November 2007, Bibby Scientific Limited focuses on the design, manufacture and distribution of four world-leading benchtop laboratory equipment brands: Jenway®, Stuart®, Techne® and Electrothermal®.



The 2011 acquisition of Electrothermal®, market leaders in heating mantle design and manufacture, adds an extensive range of outstanding products which complement Bibby Scientific's broad-based portfolio.



All four brands are available through good laboratory distributors worldwide. Bibby Scientific Ltd has subsidiaries in the USA, France and Singapore, as well as an associated company in the Middle East.



For press information, please contact:

Phoenix MarCom Ltd.

Tel: +44 (0)1480 471045

Fax: +44 (0)1480 471056

claire.england@phoenixmarcom.co.uk



Please send sales enquiries to:

Bibby Scientific Ltd

Beacon Road, Stone, Staffordshire, ST15 0SA, UK

Tel: +44 (0)1785 812121

Fax: +44 (0)1785 810405

info@bibby-scientific.com



www.teche.com

www.bibby-scientific.com

Related