Sample Divider extracts representative samples.
Press Release Summary: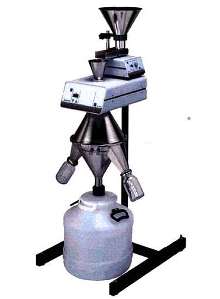 Model PK 1000 Rotary Tube Divider extracts samples from granular or powdered substances with feed size up to 10 mm. Introduced to divider through vibratory feeder, product passes into cone where rotary tube rotates at constant speed of 50 rpm. With each rotation, portion of sample is deposited by rotary tube through slot into sample collector. Dividing ratio and volume of extracted sample are determined by width of slot, which can be adjusted continuously from 0-73 mm.
---
Original Press Release:
Sample Divider Extracts Representative Samples

With Retsch's new Rotary Tube Divider PK 1000, one or more representative laboratory samples can be extracted conveniently from granular or powdered substances with a feed size of up to 10 mm. Typical applications include fertilizers, grains, or coffee; however, any free flowing, pourable bulk material up to 30 liters can be handled. The representative samples provided by the instrument assure reliable, meaningful analysis results.

Introduced to the divider through a vibratory feeder, the product passes into the cone where a rotary tube rotates at a constant speed of 50 rpm. With each rotation, a portion of the sample is deposited by the rotary tube through the slot into the sample collector. The dividing ratio and the volume of the extracted sample, respectively, are determined by the width of the slot that can be adjusted continuously from 0-73 mm.
The remaining sample is collected in the reject container. With a choice of 3 different lower cones with 1, 2, or 3 outlets, the PK 1000 can be ideally adapted to the individual sampling task. All parts in contact with the material are made of stainless steel.

Retsch is a global company dedicated to providing novel technologies and high quality tools for the sample preparation of solids used in R&D and QA applications as well as small-scale production. For more information about Retsch's complete product line of mills and grinders, sample dividers, sieve shakers and
test sieves, and optical particle sizers contact Retsch, Inc. at 74 Walker Lane, Newtown, PA 18940, USA, Toll-Free: 1-866-4-RETSCH (1-866-473-8724); Fax: (267) 757-0358; E-mail: info@retsch-us.com; Internet: www.retsch-us.com.
More from Thermal & Heating Equipment