Safety Shoe combines comfort and modern design.
Press Release Summary: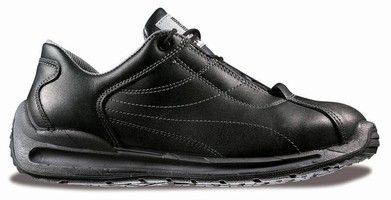 Sporty® S3 is made with water-repellent, black leather lined with foam and Cambrelle®. Along with comfort-enhancing anatomic insoles, design includes ABG protective toe caps and puncture-proof soles. Anti-slip sole with Parabolic® curved cross-section features concave structure that provides grip to all types of surfaces. Energy is immediately restored following compression phase, providing spring-like effect for comfort and reduced foot-fatigue.
---
Original Press Release:
Lemaitre Sécurité Introduces the New Sporty® Line of Safety Shoe that Combines Comfort and Design
Chicago, September 6, 2005 The Sporty® S3 is a new safety shoe made with water-repellent, supple black leather lined with foam and Cambrelle®. Like all footwear models in the Sporty® range, the Sporty S3 has a slender and well-balanced shape and offers many advantages in terms of safety, durability and quality. The Sporty S3 offers many advantages, including a modern and attractive design, the foot sits on top of the injected sole and is no longer confined, ABG protective toe caps (200 joules - EN 345-1) and puncture-proof soles (EN 344-1). It also has a comfort-enhancing fit with anatomic insoles. Most importantly, the new Sporty® features an anti-slip sole with a Parabolic® curved cross-section (Lemaitre Sécurité's exclusive patent). The sole's concave structure gives excellent grip on all types of surfaces. Energy is immediately restored following the compression phase, providing a dynamic spring-like effect for greater comfort and reduced foot-fatigue. The Sporty® design was influenced by the most fashionable trends in the casual shoe market. It has revolutionized footwear by breaking down the barrier between workplace and leisure footwear. The Sporty® line of products includes a variety of models: low shoes, ankle boots, shoes with Gore-Tex® lining, in water-repellent leather, nubuck and aerated nubuck, summer sandals, "trainers," white-colored models, a women's line, etc. All the models emphasize comfort in addition to being among the safest footwear for professional use. Sporty® is subject to model and trademark registrations. About Lemaitre Sécurité: Four production facilities located in France, Tunisia and South Africa, represent a total of 11 injection carousels for a maximum output of 20,000 pairs per day. With more than 2,800,000 pairs a year, 1,250,000 pairs of which are produced in France and Tunisia, and 1,600,000 pairs in South Africa, Lemaitre Sécurité is one of the best selling brands of safety footwear in the world. For further information, please contact: Lemaitre Sécurité 17 rue de Bitschhoffen LA WALCK, BP 90024 67350 PFAFFENHOFFEN, France Tel: + (33) 3 88 72 28 80 Fax: + (33) 3 88 07 05 37
More from Electrical Equipment & Systems