Safety Products protect users from work-related strain.
Press Release Summary: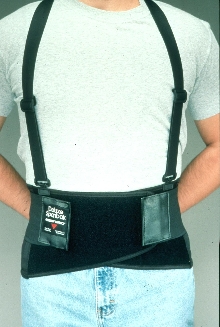 Back supports include Lifbak 5 in. belt, Flexbak(R) belt, Maxbak(R) weightlifting-style belt, and Deluxe Spanbak, constructed of spandex-type material. Kneepads, available in over 12 different knee pad designs, include MaxKnee and FlexKnee, Welding Knee, and Leather Knee. 6 different wrist supports include Dual-Flex(TM), Maxrist®, Flexrist(TM), A400, and A410. Anti-vibration and lifting gloves are designed with built-in wrist support and metal stays.
---
Original Press Release:
Allegro-nomics: Ergonomic Products From Allegro Industries

GARDEN GROVE, CA --Allegro Industries has long been a leader in the design and distribution of ergonomic products for the workplace. Back injury, carpal tunnel syndrome and other joint and muscular stresses are proven costly to virtually every type of business. Allegro has put together one of the most extensive collections of ergonomic protection available into their AllegroNomics line of products. Top quality back supports, wrist supports, kneepads, and ankle and elbow supports offer unique designs for specific jobs.

Back Supports. New to the line in 1999 is the Lifbak which is a 5" belt of rigid foam that supports the back through strenuous lifting. Re-designed for greater durability and strength are Allegro's popular Deluxe Spanbak and Body Belt. Among the other styles of back supports are the Flexbak®, and Maxbak® belts. The Flexbak offers a patented three-part closure that ensures a custom fit and superior lumbar support. The Maxbak is a weightlifting-style belt with a patented dual side closure which provides a comfortable, non-pinching fit. The Deluxe Spanbak is constructed of rugged, high-grade spandex-type material, and is designed with a two-part closing and in six sizes for a comfortable fit. Designed for highway work or wherever visibility is necessary, the Economy Hi-Vis offers all the same outstanding features with high-visibility orange suspenders and side elastic panels.

Kneepads. With over a dozen different knee pad designs, Allegro's knee pads have designed specifically for harsh or delicate surfaces, high temperature environments, and places where rugged durability is important. The popular MaxKnee and FlexKnee are now available with a unique quick release buckle that allows fast and easy donning with a minimum of readjustment. The Welding Knee is made of leather with a flexible non-skid cap, designed to stand up to the everyday demands of a foundry or welding environment. Leather Knee is designed for construction, concrete work or welding applications. A tough abrasion-resistant leather offers protection and the soft cushion back ensures comfort.

Wrist Supports. Allegro addresses the serious problem of Carpal Tunnel Syndrome (CTS) with six different wrist supports. Each one is designed to help maintain a neutral position at the wrist while allowing full movement of the hand and fingers. Dual-Flex(TM) contains eight stays that provide firm support and offers an ambidextrous design that fits both right and left hands. Maxrist® is designed with a restrictive metal spoon stay that fits into the palm to eliminate symptoms of CTS and other repetitive strain injuries. Flexrist(TM) offers the all-around comfort and support of Neoprene® that can be worn on the right or left hand. The A400 wrist support is designed with five flexible steel stays sewn into a durable panel that supports the wrist and encourages a neutral position. The A410 is designed to limit flexion and extension, the up and down movements of the hand.

Anti-Vibration and Lifting Gloves. The numbing effects of constant vibration and the repetitive motion of working with power tools creates special problems for workers. The five different designs help absorb and dampen the shock associated with heavy equipment use. The unique Anti-Vib Gloves with Wrist Support are designed with a built-in wrist support that have metal stays to help neutralize the wrist position. Anti-Vib Glove Liners offer a low profile design for easy fit under work gloves. The NBR pad covers the palm, side of the hand and the front and back of the thumb for greater impact protection. The Lifting and Gripping Glove combines padded leather palms for secure lifting with cool spandex backs for flexibility and comfort.

Founded in 1987, Allegro Industries, Garden Grove, California, offers a full line of safety equipment and ergonomic products for the workplace. For more information, please call (800) 622-3530, fax (800) 362-7231 or visit the website at www.allegrosafety.com. Allegro Industries, 7221 Orangewood Ave., Garden Grove, CA, 92641.
More from Mounting & Attaching Products