Safety Overload Couplings offer minimized response time.
Press Release Summary: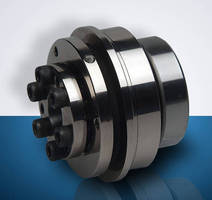 Safety overload couplings feature minimal response times, resulting in nearly instant torque break, ensuring safety of personnel working on fitted machines. They are insensitive to thermal fluctuations and contact with any lubricants. Also, units include compensation of misalignments, high torsional stiffness without restoring forces, and backlash-free torque transmission. Version with spider element can compensate for crashes and vibrations and is electrically isolating.
---
Original Press Release:

Ondrives New Safety Overload Couplings



Ondrives Ltd have recently introduced a high quality range of safety overload couplings into their extensive couplings portfolio which suit a wide variety of applications over a large number of sizes and configurations, the company states.

They offer significant advantages over traditional frictional slip-hubs or other cut-off couplings in that they feature extremely short response times resulting in an almost on the spot torque break. This ensures the safety of personnel working on machines fitted with these couplings is assured, a most important consideration. They prevent long downtimes for repair and therefore high maintenance costs. They are also insensitive to environmental circumstances such as thermal fluctuations and contact with any lubricants, a distinct advantage as these can cause especially negative effects on slip-hubs.

For those not familiar with safety overload couplings, they work efficiently as the disengagement torque can be adjusted accurately by pre-stressed cup springs which have a degressive characteristic. As soon as the torque achieves the preset maximum, the coupling disengages and the torque transmission breaks. This disengagement distance can be used to include additional mechanical or electrical equipment (such as sensors) which makes the drive cut off automatically. After the torque falls below the allowed maximum, the safety coupling re-engages automatically and continues to transmit the torque.

In addition, other key features include compensation of misalignments, extremely high torsional stiffness without restoring forces and backlash-free torque transmission. There is also a version complete with a spider element in the middle which has the ability to compensate for crashes and vibrations and is also electrically isolating.

In synopsis, the simple design with few separate components and accordingly little mass and inertia makes the possibility of a relatively easy integration of the coupling into almost every drive chain application as well as quick assembly/disassembly without leaving any residue or traces on the shafts.

Ondrives Ltd

Foxwood Industrial Park

Foxwood Road

Chesterfield

Derbyshire

S41 9RN

UK

Tel: 00 44 1246 455500

Fax: 00 44 1246 455522

www.ondrives.com

amanda.laughton@ondrives.com

More from Adhesives & Sealants