Safety Mats protect workers and vehicles.
Press Release Summary: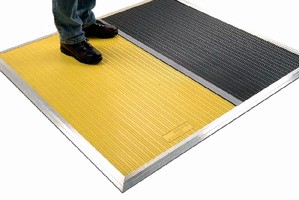 Featuring molded plastisol outer skin, Extra Heavy Duty Series 14HD-EHD provides effective safety barriers to workers and vehicles entering hazardous or restricted machine and production areas. Mats can be wired to stop robots, machinery, doors, and alarms. By adding Snap-On aluminum connectors and edging, they can be customized to fit any size area. Totally molded to prevent fluid entry, mats are .375 in. thick with corrugated surface and maximum load capacity of 4,500 psi.
---
Original Press Release:

Recora Company Introduces New Series Of Extra Heavy Duty Safety Mats



Recora Company introduces a new series of Extra Heavy Duty Safety Mats that provide effective safety barriers to both workers and vehicles entering hazardous or restricted machine and production areas. The Extra Heavy Duty series is used in applications that require the mats to withstand heavy equipment used in everyday operations. They can be wired to stop robots, machinery, doors, alarms...most any type of mechanical or moving equipment imaginable. Recora Safety Mats are used in almost any environment, wherever safety and security are paramount.

The Series 14HD - EHD Safety Mats can be easily customized to fit any size area by adding Recora's Snap-On Aluminum Connectors and Edging. In addition, these Safety Mat Systems can be customized for sensitivity, activation, layout design and sized to cover any area to help provide worker protection from restricted or hazardous machine areas...even around cut-outs for machine legs, posts, walls, etc. By adding Recora's FSC-6R Relay to the Series 14HD - EHD Safety Mat System provides level 3 protection.

SPECIFICATIONS:
o Molded plastisol cover
o Overall thickness is .375" with a corrugated (ribbed) surface
o Shore A hardness 80 +/- 3
o Activation pressure is <300 N, typical activation pressures 50 - 60 lbs.
o Maximum load capacity is 4,500 psi
o S.P.S.T normally open switch, 24V AC/DC
o Standard lead length is determined by the Safety Mat model selected, additional cable length is available
o 16 gauge bottom plate, 16 gauge top plate
o 65 durometer silicon spacers
o 18 gauge 2 conductor lead wire, mechanically fixed to the electrode, other cables available. (Quick disconnects.)
o Standard colors are black, yellow and brown
o High load bearing capacity (forklifts)
o High impact resistance
o Safety Mats are totally molded, not laminated, to help prevent fluid entry
o Extruded aluminum 2.000" ramp and .750" blunt edging and conduit connector included for securing the larger 14HD - EHD series Safety Mats.

Recora Safety Mats are available in dual lead configuration, designated as HD for dual lead. The type of series used should only be determined after a risk assessment is performed. The level of safety protection required for a given application is based on the risk associated with that application. The risk associated with an operation is based on a number of factors that must be taken together and evaluated in total to establish the risk level for any equipment or operation. It is important to note that using a Safety Mat alone will not make the installation a safety system. A Safety Mat monitoring controller must be used to complete the safety system. When a 14HD - EHD (4-wire) series Safety Mat is used together with the FSC-6R Relay, the safety system reaches a safety category 3 level. Safety controls must have positive operation indicators; force guided relays, redundant critical control components in order to meet the ANSI B11.19 guidelines.

The HD series, a four-conductor lead cable, is usually required when the Safety Mat is to be used as a safety mat. The dual leads are necessary when used in conjunction with the Recora FSC-6R Relay. The leads are used to provide a low voltage, low current path to actuate a safety relay, holding it in an energized position. The contacts are closed as a result of this energized relay and used to complete the circuit controlling the machine or device. When an operator steps on the Safety Mat, the relay is de-energized, disabling the machine or device. Additionally, should a Safety Mat lead be severed, the control unit power interrupted, or a transformer failure occur, the mat controller will again be de-energized, disabling the machine or device. This feature provides the added margin of safety usually determined to be necessary by most end users. This determination should only be completed after a full risk assessment has been completed.

SWITCHMAT CONSTRUCTION-Recora Safety Mat is manufactured using a proven plate contact technology. The twin steel plates form an electrode inside the mat. The plates are held apart by strategically place silicone spacers that are important to the sensitivity of the mat. When the mat is activated, the top and bottom plate come in contact closing, sending a signal to the monitoring device. The outer skin of the mat is a totally molded plastisol (vinyl) material.

For more info contact:
Recora Company
1040 Kingsland Dr.
Batavia, IL 60510
630-879-2202
Fax 630-406-9797
info@recora-co.com
www.recora-co.com

More from Communication Systems & Equipment