Safety Light Curtains feature double scan technology.
Press Release Summary: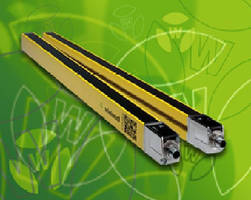 Featuring slim, rigid housings that enable adjustment, SLC Series utilizes optoelectronic technology to protect machine operators and to prevent unauthorized access. Customizable light curtains can be made as Type 2 or Type 4 devices with protection field heights spanning 150–1,800 mm and 5 beam resolutions of 14, 20, 30, 40, and 90 mm. Connecting via standard M12 connectors, units include double-scan technology which avoids unwanted downtime, even in harsh operating conditions.
---
Original Press Release:
Wieland Electric Safety Light Curtains Protect Operators & Prevent Unauthorized Access
Robust, reliable, & highly customizable, SLC Series non-contact light curtains provide trusted optoelectronic protection in a broad range of machine applications…

Wieland Electric Inc., a leading global manufacturer of innovative electrical interconnect technology, announces its SLC Series safety light curtains. Featuring slim, rigid housings that enable easy adjustment and stable operation, and integrated double-scan technology that avoids unwanted downtime in even the harshest operating conditions, the robust and reliable SLC Series safety light curtains provide trusted protection for machine operators and against unauthorized access. They can be made as Type 2 or Type 4 devices, and are available in five beam resolutions (14, 20, 30, 40, and 90mm), protection field heights spanning 150–1800mm, and an extensive range of accessories. The SLC Series provides effective and economical optoelectronic protection customizable to nearly any machine application.

"Highly configurable and easy to install, adjust, and remove, SLC Series safety light curtains provide trusted, cost-effective machine protection in a wide range of applications," said Martin Lalonde, application engineer at Wieland Electric.

Quick and easy to install, adjust, and remove, SLC Series light curtains connect via standard M12 connectors. Configuration of the light curtains is done through wiring and therefore does not require a connection to a PC or setting of DIP switches. The SLC select features a three-zone alignment indicator that both reduces assembly time and simplifies adjustment. SLC light cable connection can be up to 100m long and permit the use of unshielded cables. This ensures greater operational flexibility and reduces costs even under challenging EMC conditions.

The series is available in two models: the SLC Standard, which features an LED display, double-scan technology, automatic start, and selectable transmission channels and range reduction to prevent mutual interference. The SLC Select offers the additional benefits of manual start/restart interlock, external device monitoring (EDM), and a seven-segment display that provides clear diagnostic and status messages to ensure shorter downtimes. All SLC Series light curtains are compatible with Wieland's safety relays and samos® PRO Series programmable safety controllers, which enable the implementation of advanced control features like muting functions. Additionally, all SLC Series devices are approved for monitoring and control of machines in safety applications in accordance with PL e EN13849-1 and SIL3 (EN626061) standards.

About Wieland
Wieland Electric Inc., founded in 1910, is a leading global manufacturer of electrical interconnect technology products. Headquartered in Germany with a North American Operations Center and subsidiaries throughout the world, Wieland Electric has 2200 employees in more than 70 countries to service worldwide customers. Wieland provides solutions to the industrial and building automation, wind, solar, HVAC, and power generation markets. Local inventory, value-added services, and technical resources are headquartered at the North American Operations Center and support a national sales and distribution channel. Wieland is ISO 9001 certified.

Contact
Martin Lalonde
Wieland Electric, Inc.
2889 Brighton Road
Oakville, ON L6H 6C9
Canada
Phone: 1-800-943-5263
Email: technical.support@wieland-electric.com
Internet: www.wieland-electric.ca


 
Contact This Company Download Spec Sheet
More from Construction Equipment and Supplies