Safety Harness features built-in personal flotation device.
Press Release Summary: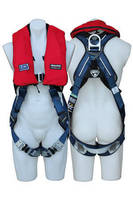 Incorporating AS/NZS1891.1 certified fall arrest harness and personal flotation device (PFD) in one unit, ExoFit(TM) XP Flotation Harness provides fall- and buoyancy-protection for workers in marine environment. PFD automatically inflates within 3 sec of being immersed in water and turns user onto his back, ensuring safety even when person is unconscious. Built-in i-Safe(TM) system utilizing RFID technology aids inspections, while stainless steel connection hardware reduce risk of corrosion.
---
Original Press Release:
Capital Safety Australia Introduces Safety Harness with In-Built Personal Flotation Device
Uniquely Designed to Provide Fall Protection and Buoyancy Protection! DBI-SALA, a Capital Safety brand solely dedicated to the fall protection market, has announced the launch of their NEW ExoFit(TM) XP Flotation Harness. The ExoFit(TM) XP Flotation Harness provides the perfect solution for workers who are exposed to the risks of height in a marine environment. The Australian-first design incorporates an AS/NZS1891.1 certified fall arrest harness and a personal flotation device (PFD) in one unit, to provide both fall protection and buoyancy control for the professionals working on or near the water. There is an Industrial 275N model available for both closed and open water environments as well as an open water (SOLAS) model for use in shipping and offshore work, enabling the worker to choose a product to suit their specific needs. The flotation harness serves two purposes. Firstly, the device will provide protection following a fall from height. Secondly, in the event the operator falls into the water whilst not being connected, it will ensure you remain afloat until help arrives. The ExoFit(TM) XP Flotation Harness retains all the comfort and safety features of the traditional range, whilst adding additional protection near water, including stainless steel connection hardware to reduce the risks of corrosion and extend product life. The flotation device is independently recognized by both Australian and New Zealand standards and has a lifting connection point to enable fast retrieval during a rescue. Even when a person is unconscious and wearing industrial clothing and tools, the PFD will automatically inflate within 3 seconds of being immersed in the water and turn you onto your back, ensuring your airway is above water. "The ExoFit(TM) XP Flotation Harness combines the latest technology in buoyancy and fall protection technology to ensure worker safety on or near the water," says Rick Millar, Technical Manager for Capital Safety, Australia and New Zealand. "There is no longer the need to wear a separate harness and bulky life jacket - this product combines both into one." DBI-SALA's i-Safe(TM) intelligent safety system utilising RFID technology is built into the flotation harness to fast track inspections, control inventory and manage information. The PFD comes complete with a number of standard safety features such as a pull cord for manual activation, safety whistle, lifting strap, reflective tape, oral inflation/deflation tube, high visibility international orange chamber and an inspection history label. There are also a number of options such as fire resistant protective covers, safety lights and spray hoods. For more information regarding DBI-SALA's NEW ExoFit(TM) XP Flotation Harness call us on 1800 245 002 (AUS), 0800 212 505 (NZ) or visit www.capitalsafety.com. Capital Safety, the world's leading designer and manufacturer of height safety, confined space and industrial rescue equipment with 11 operating sites worldwide, is home of the DBI-SALA and PROTECTA brands. Company Name: Capital Safety Phone: 0297480335 URL: www.capitalsafety.com Contact Name: Leonardo Di Coio Title: Marketing Communications Manager E-mail: ldicoio@capitalsafety.com.au
More from Mechanical Power Transmission