Safety Controllers enhance mobile off-highway vehicle design.
Press Release Summary: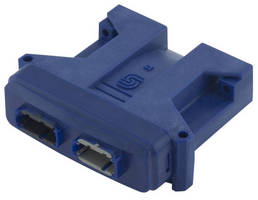 PLUS+1(TM)-Compliant models SC024-010/-020 and SC050-020 offer functional safety capabilities to OEM designers of off highway vehicles worldwide. Designed to achieve SIL 2 and PL-d standards, controllers help meet European Machinery Directive 2006/42/EC. Each programmable device includes 2 independent MPUs with redundant control of each output. Safety layer software provides automatic fault detection monitoring and enables programming of application-specific responses to fault conditions.
---
Original Press Release:

Sauer-Danfoss Launches New Series of PLUS+1(TM) Compliant Safety Controllers



Devices offer exceptional functional safety capabilities, to help off-highway vehicle OEMs meet stringent standards

AMES, Iowa, USA - Sauer-Danfoss Inc. (NYSE:SHS) The new series of Sauer-Danfoss PLUS+1TM Compliant safety controllers offers outstanding functional safety capabilities to OEM designers of mobile off-highway vehicles worldwide. Designated SC024-010, SC024-020 and SC050-020, these devices simplify and streamline the application process, facilitating easier compliance with stringent functional safety standards. The three Sauer-Danfoss safety controller variants help vehicle manufacturers meet European Machinery Directive 2006/42/EC and are designed to achieve SIL 2 (Safety Integrity Level 2 according to IEC 61508) and PL-d (Performance Level d per ISO 13849-1) standards, with third-party certification pending.

The new safety controllers join the flexible, powerful, expandable and growing PLUS+1 family of mobile machine management products, which integrate seamlessly through industry-renowned application expertise, offering accelerated mobile machinery development and time to market.

"Our three new PLUS+1 Compliant safety controllers provide superior functionality and system design flexibility," said Joseph P. Maher, Product Marketing Manager for Sauer-Danfoss. "These solutions enable OEM customers to safety-certify their control systems, meet functional safety mandates, bring vehicles to market and certification faster, and reduce development and maintenance costs."

Global Impact
All off-highway mobile equipment exported to or manufactured in the European Union (EU) must meet European Machinery Directive 2006/42/EC, which took effect in late 2009, to establish an EC Declaration of Conformity and earn a CE vehicle marking. International safety standards, such as the harmonized International Organization for Standardization (ISO) 13849-1, have been updated accordingly.

"Functional safety must be addressed by all off-highway vehicle OEMs, not just those active in the EU," Maher said. "The Directive applies globally because supporting engineering standards are developed by ISO, which has established 'state-of-the-art' standards for OEM functional safety design architecture - regardless of the region of the world in which the vehicle is designed, produced or sold."

European Machinery Directive 2006/42/EC mandates a Hazard Analysis and Risk Assessment, which must be performed and documented by the vehicle OEM according to ISO 13849 or another functional safety standard as required by national law. ISO 13849 refers to International Electrotechnical Commission (IEC)-61508 for electronically programmable systems and encourages the use of Safety Integrity Level (SIL)-certified components and software. The result of the IEC-61508 analysis is calculation of SIL level, which has a clear relation to a Performance Level (PL). SIL level 1-4 is calculated based on likelihood and consequences of hazards for each safety-critical function.

OEMs bear responsibility for obtaining SIL certification. While SIL-compliant components and software cannot guarantee a SIL- or PL-compliant system, they can greatly reduce an OEM's vehicle certification effort.

Enhanced Functionality, Flexibility
The new Sauer-Danfoss safety controllers update three higher volume Sauer-Danfoss controllers to add improved functional safety capabilities. Each programmable device is a single controller module that includes two independent microprocessors with redundant control of each output. Integral safety layer software provides automatic fault detection monitoring, and enables programming of application-specific responses to fault conditions. The design architecture facilitates use of the primary microprocessor for non-safety-critical applications, isolating control of safety functions in the secondary or safety microprocessor. The GUIDE-programmable devices are pin-for-pin compatible with equivalent Sauer-Danfoss MC controllers, requiring no wiring changes to transition from the standard controller to a safety controller.

The new safety controller series features enhanced performance derived from the logical incorporation of state-of-the-art electronic technology. Upgrades include a larger memory capacity, higher environmental performance and enhanced input/output flexibility. The primary controller offers 512K of flash memory, while the secondary controller provides 128K of flash memory. The devices' operating temperature range has been increased to 85 degrees C. Some multifunction inputs can now read 4-20 mA current, and digital inputs are now digital/analog to facilitate smart digital inputs. The frequency range of PWM outputs has been expanded to 33-4,000 Hz or 20,000 Hz and supports separate PWM frequencies per channel.

"When a fault is detected, the new safety controller can shut down individual outputs," Maher said. "Competitive solutions only have the capability to shut down banks of outputs, so this offers a significant advantage to our OEM customers."

Additional enhancements include:
· Configurable sensor power featuring a selectable range from 3-12 volts
· A 150 V/m EMI/RFI rating
· A lower power mode enabling application software to command internal power supplies to shut down when the controller is idle
· The capability of running on as low as 7 volts, providing the ability to stay on consistently through engine crank

Functional Safety Partner
In support of the new safety controllers, Sauer-Danfoss offers a team of subject matter experts with expertise in the development of OEM customer strategies to achieve functional safety compliance. Sauer-Danfoss can contribute by providing technical input, integrating products to develop subsystems and solutions, and offering information about the functions and reliability characteristics of such product assemblies.

"Functional safety compliance can be complex and confusing, but Sauer-Danfoss specialists have the know-how to assist our OEM customers," comments Ruediger Huettmann, Product Compliance Manager for Sauer-Danfoss. "Sauer-Danfoss is the ideal partner for OEMs seeking effective and efficient solutions to meet functional safety needs and get to market faster."

About Sauer-Danfoss
Sauer-Danfoss Inc. is a worldwide leader in the design, manufacture, and sale of engineered hydraulic and electronic systems and components for use primarily in applications of mobile equipment. Sauer-Danfoss, with 2011 revenues of approximately $2.1 billion, has sales, manufacturing, and engineering capabilities in Europe, the Americas, and the Asia-Pacific region.

For technical issues:
Rick Hicks
Product Application Engineer
Sauer-Danfoss
Plymouth, Minn., USA
Phone: +1 763-509-2029
rhicks@sauer-danfoss.com

For media information and photos:

Americas:
Nathan Huss
Two Rivers Marketing
Des Moines, Iowa, USA
Phone: +1 515-557-2031
nathanh@2rm.com

More from Paints & Coatings