Safety Connector keeps workers from falling.
Press Release Summary: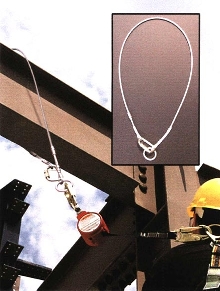 Cable Anchorage Connector attaches to I-beams and similar structures. Worker can attach shock-absorbing lanyard or self-retracting lifeline to connector. Available in 2 models, it has captive-eye carabiner or locking snap hook, 1/4 in. vinyl-coated wire rope, and forged steel 3 in. O-ring. Capable of withstanding 5,000 lb, connector meets all applicable OSHA guidelines.
---
Original Press Release:
New Miller(R) Cable Anchorage Connector - Ideal Fall Protection

FRANKLIN, Pa. (Jan 2, 2002) - The new Miller Cable Anchorage Connector provides the perfect connector for workers to attach to an I-beam or similar structure for fall protection. The cable wraps around an I-beam or other structure capable of withstanding 5,000 lbs. (22kN), and connects to the captive-eye carabiner. The worker can then attach a shock-absorbing lanyard or self-retracting lifeline to the O-ring connector.

Available in two models, the Miller Cable Anchorage Connector features:
* Durable construction -- one model is manufactured with a captive-eye carabiner while the second model provides a locking snap hook. Both models feature 1/4-inch (6mm) vinyl-coated wire rope and include a forged steel 3-inch (76mm) O-ring
* Easy operation
* Convenient lengths with the standard length at 6 feet (1.8m) and additional lengths available upon request
* OSHA compliance -- the Miller Cable Anchorage Connector meets all applicable OSHIA guidelines

Miller brand fall protection products, training and engineering systems are available from Bacou-Dalloz of Franklin, Pa., a world leader in the design and manufacture of fall protection equipment for more than 50 years.

More from Mechanical Components and Assemblies