Safety Broadcast System is designed for road tunnels.
Press Release Summary: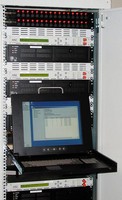 When incident occurs in particular tunnel bore, TunnelAlert(TM) is switched in with effect of replacing audio on all Digital Audio Broadcasting (DAB) audio services being re-broadcast in tunnel bore with live emergency message. It provides occupants of vehicles in tunnel with appropriate instructions by monitoring specified on-air DAB multiplexes and updating in-tunnel DAB multiplexer system to follow their configuration.
---
Original Press Release:


Radioscape Helps Tyco Create Safety Broadcast System for Tunnels




London, UK - 28 October 2005 - RadioScape, the world leader in end-to-end Digital Radio solutions, has provided the Digital Audio Broadcasting (DAB) expertise for a new DAB safety broadcast system for use in road tunnels called RadioScape TunnelAlert(TM). When an incident occurs in a particular tunnel bore, the system is switched in with the effect of replacing the audio on all the DAB audio services being re-broadcast in that tunnel bore with a live emergency message, thus providing the occupants of the vehicles in the tunnel with appropriate instructions. Systems have been in existence to deliver this service on FM for some time but RadioScape is the first company to provide systems for DAB.

Prompted by the Mont Blanc disaster a few years ago, a recent EU mandate requires that long tunnels (over 500 metres) must have an emergency broadcast system that will automatically change the in-car entertainment system to the emergency channel. There are over 2000 tunnels in Europe that will require such a system.

RadioScape has partnered with Tyco Traffic & Transportation, a major systems integration company that specialises in providing radio rebroadcast systems, emergency radio systems and PA/EVAC systems for new and refurbished existing tunnels, to create TunnelAlert. RadioScape used its unique end-to-end systems knowledge of DAB (Digital Audio Broadcast) to create the DAB part of the system. The system provided by RadioScape monitors the specified on-air DAB multiplexes (received outside the tunnel and, in normal conditions, re-broadcast inside), dynamically updating the in-tunnel DAB multiplexer system to follow their configuration. This local multiplexer can then be switched in to replace the rebroadcast signal if an incident occurs, encoding the warning messages in real-time. In this way, all the DAB car radios in the tunnel switch seamlessly from the external service to the warning message.

"This was a very complex challenge," explained Les Sabel, Vice President of Development at RadioScape. "We have patented the techniques used to effect the seamless and instantaneous transition of all the external DAB broadcasts to the emergency broadcast."

David Giles, Business Group Manager for the Wireless Solutions Group at Tyco Traffic & Transportation, added, "The EU has recognised the growing importance of DAB in cars and therefore this is a key part of the specifications. Interrupting FM reception is straightforward and we already have systems that can do that part but DAB is more complex requiring the use of a multiplex so we brought in RadioScape. Their Software Defined Digital Radio approach enabled them to create, test and effect all the modifications to their standard equipment via software very quickly."

The first tunnel to have TunnelAlert installed will be the Rotherhithe Tunnel in the UK, which is expected to go live early in the New Year.

About RadioScape
RadioScape Ltd. is the world's only developer of end-to-end digital audio broadcasting solutions giving RadioScape unmatched systems knowledge and enabling it to ensure that customers receive the highest levels of quality, robustness and reception at all stages. Its Digital Radio broadcast suite is used extensively throughout the world including the largest DAB installation to date -- the UK's commercial DAB network.

Its innovative Software Defined Digital Radio(TM) approach has made it a leader in DAB and DMB technology with its DAB receiver modules being extensively used by many of the world's leading consumer electronics manufacturers. The company has announced that it is working on DRM capability that will result in true, multi-standard, digital radio receivers.

Founded in 1996, RadioScape's investors include Atlas Venture, Royal Bank Ventures, Scottish Equity Partners, JAFCO, Texas Instruments, Yasuda Enterprise Development, iGlobe Partners, Psion and NTL. RadioScape is headquartered in London, England with offices in Singapore and Hong Kong. For more information, please visit www.radioscape.com

RadioScape is a registered trademark of RadioScape Limited. All other trademarks are acknowledged.

For an image of RadioScape broadcast systems, please go to http://radioscape.com/Resource_Library/Images/Broadcast/

For more information on RadioScape, please contact:
Caroline Skipworth
RadioScape Ltd
+44 20 7317 1996
caroline.skipworth@radioscape.com

Nigel Robson
Vortex PR
+44 1481 233080
Nigel@vortexpr.com

About Tyco Traffic & Transportation

Part of the larger Tyco Fire & Integrated Solutions group, it specialises in complete CCTV systems for traffic management for motorways, trunk roads and tunnels as well as for city centres, shopping centres and urban areas. In addition to designing and installing integrated systems including cabling and control room equipment, the company also provides full maintenance and service contracts with a nationwide capability on any basis including guaranteed call out times for 24 hours a day, 7 days a week. The company's Wireless Solutions group provides innovative wireless systems for GSM enhancement, communications and radio re-broadcast for tunnels, underground rail network, airports, shopping centres, large buildings etc. The Specialist Communications group provides fully integrated systems for public address, DECT, intercom, paging, lone worker communications including locations aware systems, RFID systems etc.

For all reader enquiries regarding Tyco please contact:

Tyco Integrated Systems, Bridge House, Saxon Way, Bar Hill, Cambridge CB3 8TY.
Tel: 01954 784000, Fax 01954 784010
Email: marketing.tisuk@tycoint.com
http://www.tycotraffic.com


More from Controls & Controllers