Safer Solvent offers alternative to Xylene.
Press Release Summary: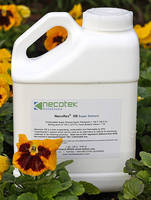 Necosolv XB, featuring Kauri-Butanol (K-B) value of 115, boiling point of 134°C, and flash point of 102°C, can serve as direct replacement to Xylene solvent, which is often used in printing, paint, rubber, and leather industries. This non-flammable/combustible does not qualify as Hazardous Air Pollutant (non-HAP) and features low or no Global Warming Potential (GWP) and Ozone Depletion Potential (ODP).
---
Original Press Release:
New Safer Alternative to Xylene with Higher Solvency Power
Necotek Solutions provides Necosolv XB as a direct replacement to Xylene

Oak Ridge: Xylene is well known as an excellent solvent – often used in the printing, paint, rubber and leather industries since it has high solvency power, as demonstrated by its high Kauri-Butanol (K-B) Value of 98. However, Xylene is known to be a potential occupational hazard due to numerous health and safety concerns (1, 2, 3). Consequently, an alternative for Xylene has been frequently researched.

Necotek Solutions developed Necosolv XB to address this situation – providing a strong solvent that is safer as well as being non-flammable/combustible*:
• Not a "Hazardous Air Pollutant" (non-HAP)
• Low Toxicity
• Low or no Global Warming Potential (GWP) & Ozone Depletion Potential (ODP)

Below is a comparison of Necosolv XB and Xylene:
 K-B ValueBoiling Point (°C)Flash Point (°C)Necosolv XB115134102*Xylene9813977

* Flash Point of 102°F (38.9°C) determined by Pensky Martens Closed Cup -- ASTM D93. Designated as "Class II Combustible" per EPA.

Necosolv XB as an alternative and safer replacement for Xylene should be of interest to anyone using Xylene regularly.

Visit our website at www.necoteksolutions.com for more information about our specialty powerful solvents (i.e., high Kauri-Butanol (K-B) value solvents) – all of which are uniquely non-flammable. You may also call 1-844-NECOTEK (632-6835) for more information.

Necotek, LLC
Phone: (865) 276-1934
Or: 1-844-NECOTEK
106 S. Illinois Ave.
Oak Ridge, TN 37830
www.necoteksolutions.com
More from Electrical Equipment & Systems