Safeguarding System is suited for hydraulic press brakes.
Press Release Summary: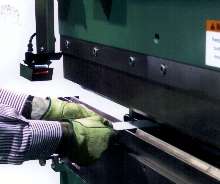 LazerSafe LZS-003's flat band of laser light covers zone below punch over 40 mm width. Operator works within 20 mm of front of punch and 10 mm of rear with no disruption to approach speed or bending process. Optical design detects obstructions down to 4 mm, and tolerates vibration. Machine performs failure detection by real-time monitoring of process under control and hydraulic, electrical, and machine controller software logic fault detection.
---
Original Press Release:

Increase Hydraulic Press Brake Safety & Productivity with STI's New LazerSafe


FREMONT, CA - Scientific Technologies, Inc. introduces the LazerSafe LZS-003 Safeguarding System for Hydraulic Press Brakes. Designed and developed exclusively for hydraulic press brakes, LazerSafe is an effective solution that combines operator safety and machine productivity.

LazerSafe uses a flat band of laser light that continuously covers the zone below the punch over a 40mm width. The operator can work within 20 mm of the front of the punch and within 10mm of the rear of the punch with no disruption to the approach speed or bending process. The unique optical design detects obstructions as small as 4 mm while still being tolerant to vibration. The LazerSafe transmitter and receiver are mounted on the ram of the press allowing the operator to stay close to the workpiece as the tools close at high speed. Due to the location and size of the beam, multiple bends in the material are easily accomplished without interrupting the laser beam.

For many years, light curtains have been the preferred choice for safeguarding press brakes. The complexity of the workpiece may make it necessary to change channel select/fixed blanking programs in the light curtain several times during the bending operation of a single workpiece. LazerSafe's unique band of laser light combined with its mounting location on the machine and its "step-through" bend cycle provides considerably greater through-put while providing operator safety without a single program change.

LazerSafe is the only press brake safety system that performs failure detection by real-time monitoring of the process under control. Encoder feedback provides closed-loop monitoring of speed and stopping distance of the ram. In addition to providing an unprecedented degree of hydraulic press brake safety; hydraulic, electrical and machine controller software logic faults may also be detected.

LazerSafe is sold as a package with installation services. Factory trained Installers are located throughout North America and have a strong background in press brakes and press brake control technology. An installed base of over 3000 systems worldwide clearly makes LazerSafe a world leader in hydraulic press brake safeguarding and productivity.

With headquarters in the heart of Silicon Valley, STI was founded over 30 years ago and employs more than 330 people. STI has been selected twice by Forbes and three times by Business Week as one of the "world's best small companies." STI's safety products are used to protect workers around machinery, automated equipment and industrial robots.

For more information contact: Scientific Technologies Inc., 6550 Dumbarton Circle, Fremont, CA 94555;1-800-479-3658; (510) 608-3400; fax: (510) 744-1442; Fax Back System: (916) 431-6544; E-mail: sales@sti.com; Web site: www.sti.com.

More from Architectural & Civil Engineering Products