Rustlick Ultracut 255R Heavy-Duty Water-Soluble Oil with Exceptional Biostability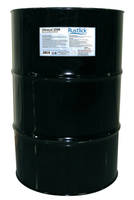 Glenview, IL - March 3, 2009 - Rustlick Ultracut 255A is a heavy-duty, high-performance water-soluble oil with chlorinated and non-chlorinated extreme-pressure additives for unbeatable corrosion protection and great lubricity. It can be used with all ferrous metals and is great with hard-to-machine alloys. Limited use is recommended on aluminum, brass, bronze, copper, and titanium.

Specially formulated to be highly resistant to bacteria and fungus, Rustlick Ultracut 255R offers significantly prolonged sump life when compared to other water-soluble oils. Rustlick Ultracut 255R also contains boundary lubricants to create a light oil barrier that protects the working part and the machine from rust. Rustlick Ultracut 255R is also great for environments with hard water problems since it provides strong emulsion stability.

Rustlick Ultracut 255R is a light brown viscous fluid in its concentrated form and is available in 5 or 55 gallon containers.

ITW ROCOL North America designs and manufactures a full line of coolants and lubricants for the metalworking industry including the Rustlick product line of metalworking fluids, dielectric oils, corrosion-control products and sump maintenance systems.


More from Paints & Coatings