Rustic Renaissance - Duo Designs Custom Furniture for Commercial Clients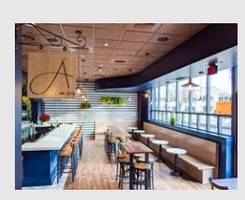 Rustic Red Door Co. Furnishes Pieces for Corporate Projects, Restaurants and Hospitality Clients
Philadelphia (PRweb) January 13, 2020 - More and more consumers, businesses and entrepreneurs are turning to custom made, one-of-kind pieces to furnish their design-build projects or renovations. "We're seeing a serious boom in interest from commercial clients," said Shaun Smith, co-owner of PA-based Rustic Red Door Company, which specializes in custom built, solid wood and live edge furniture, which they will deliver anywhere. "We started out primarily designing for residential projects, but now we're getting a lot of inquiries for furniture from corporate clients for office buildings, hotels, educational institutions and restaurants. "Quality is making a major comeback. Clients are tired of buying and having to replace so frequently," said Kerry Smith, the entrepreneurial half of the husband and wife team. "Creating an esthetically pleasing space that customers want to come back to has become a priority - and that's where we come in with our durable, well-built products," explained Kerry. "Our focus is on providing custom solid wood furniture. We've scoured the country to find the finest artisans and woodworkers that can meet the demands for customization and product turnaround times."
RRD's most popular items are tables, bars and cabinetry. Recently, Kerry and Shaun have been tapped for many restaurant projects. At The Perk, a Bucks County, PA eatery, RRD designed and supplied ebony-stained barn wood bar tops and pub tabletops with American-made steel bases.
The Spread Bagelry outpost in Bryn Mawr, PA was one of their most original and challenging projects. The Philadelphia-based Montreal-style wood oven bagel bakery & cafe is designed to look like a bagel bar inside a classic train station. The beautiful custom faux "ticket booths" integrated into the standing bar and down through the refrigeration section took some serious creative design innovation. Special requests included a gold powder coat on steel supports and the use of rustic cherry wood. Unlike standard cherry, rustic is a grade with more variation, color, grain pattern and knots, which increases character and reduces cost.
At Bonchon, a modern Korean restaurant, Shaun recommended the use of steel arch supports on the tables as a design accent, a function that also creates strong support that stays out of the way of guests' legs while sitting. To meet the timeline, RRD worked with the client to build flexibility into the cabinetry design because the site was being built out and the exact dimensions were not known. RRD supplied banquette/bench seating, countertops, metal support brackets and cabinetry.
At their most recent restaurant project, Mediterranean-inspired Ardana Food & Drink in Warrington, PA, RRD incorporated rustic elements of natural wood and metal throughout. To view photos of their commercial projects, please take a look here: https://rusticreddoor.com/blogs/galleries/tagged/commercial-gallery.
In terms of trends, the Smiths predict seeing more multifunctional furniture – perfect for small spaces - clever pieces that blend style and function, such as hidden storage, pieces that can move and be repurposed or serve double duty. Live-edge river tables are also a major new trend in commercial environments to keep an eye on, they say. RRD pours eye-popping epoxy resin in a variety of color options into these tables, creating an effect that mimics a river running through a multitude of wood options. "We're seeing a major uptick in river table orders for conference rooms, communal dining and executive offices, which we're really excited about," said Kerry. "The larger format river tables are incredibly gorgeous, and often stop people in their tracks. They are the ultimate conversation pieces, and we'll never grow tired of our customers' raving about their clients or customers' reactions to our furniture and/or custom millwork," said Kerry. "Rustic Red Door Co. is our life's work, and launching and growing it has provided us with more joy than we ever imagined."
Located in Perkiomenville, PA, Rustic Red Door Co. designs and creates superior quality American-made furniture, millwork and wall decor for both residential and commercial spaces. Specializing in solid wood, reclaimed barn wood, live edge and steel, the company focuses on quality and customer satisfaction. To learn more, please visit https://rusticreddoor.com/.
Contact Information:
Lena Vanier
Peter Breslow Consulting & Public Relations
http://https://peterbreslow.com/
610-529-2929
More from Electronic Components & Devices