Rust Converter changes surface into zinc-coated metal.
Press Release Summary: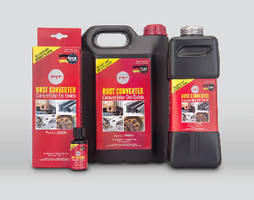 Water-based, non-toxic, and non-flammable, FERTAN Rust Converter stops rust corrosion on variety of surfaces and converts those surfaces into black zinc phosphate coating that is suited for use as fresh paint base. Zinc phosphate coating will protect metal for up to 6 months before additional primer or paint needs to be applied. Under ideal conditions (75°F and 70% humidity), FERTAN Rust Converter can work in as little as 4-6 hours. No deep scrubbing or sandblasting is needed.
---
Original Press Release:
CRP Automotive Introduces FERTAN Rust Converter
Stops corrosion process and converts rusted surface into zinc-coated metal   

Cranbury, NJ – CRP Automotive, a leading source of OE-quality replacement and service parts, has introduced FERTAN Rust Converter to its growing line-up of problem solving products. FERTAN Rust Converter is a water-based, non-toxic, non-flammable liquid that stops rust corrosion on a variety of surfaces and converts those surfaces into a black zinc phosphate coating adhered to the metal that is ideal for use as a fresh paint base. The protective zinc phosphate coating will protect the metal for up to six months before additional primer or paint needs to be applied. This combination of protection and paint (or primer) ready surface is ideal for use in car restoration and auto body shops.

FERTAN Rust Converter eliminates the need for deep scrubbing or sandblasting and completely removes the rust. It delivers a 64% costs savings when compared to traditional sandblasting. Under ideal conditions (75 °F and 70% humidity) FERTAN Rust Converter can work in as little as 4-6 hours. The rust conversion process can usually be completed in 24 hours or less, however some applications may require up to 48 hours. FERTAN Rust Converter reacts well on wet surfaces and in humid conditions.

According to Abraham Garweg, VP of Innovation, "Actual reaction time will vary depending on temperature and humidity conditions as well as the amount of rust present prior to application. Once the reaction time is complete, all the user needs to do is simply rinse or sponge the area off with water to reveal the protective black zinc phosphate surface, which is now ready to be primed or painted."

FERTAN Rust Converter is available in a variety of packages and sizes and can be easily applied via brush, roller, sponge, or spray. Unlike competitive products, FERTAN Rust Converter is ideal for use in cavities, inside of doors and frame rails, and undercar and weld seams. FERTAN Rust Converter only reacts to rust and will not affect paint, plastic, glass, or rubber. It quickly cleans off of unintended surfaces with water.

In addition to FERTAN Rust Converter, CRP Automotive also offers FERTAN Rust Remover Liquid and Rust Remover Gel, water-based, non-toxic products that quickly dissolve rust from metal surfaces. All FERTAN Rust products are backed by the CRP Automotive standard of excellence. For more information, visit: www.fertan.com.

About FERTAN
FERTAN GmbH is a leading innovator and manufacturer of rust converting and removal products.  Since the company's inception in 1979, FERTAN has grown its product portfolio year after year and built lasting relationships with major vehicle manufacturers.  CRP has been FERTAN's NAFTA market partner since 2014, handling all sales and service activities in the United States, Canada, and Mexico. The FERTAN program includes a rust converter, rust remover, rust remover gel, epoxy primer spray, and a multi-metal coating spray.

About CRP Automotive
CRP Automotive is a part of CRP Industries, a leader in the marketing and supply of automotive parts and industrial products. CRP Automotive provides some of the industry's leading brand names, including ContiTech Automotive Belts, Rein Automotive® Parts and Accessories, Pentosin Technical Fluids, AJUSA Engine Parts, and FERTAN Rust Treatment Products. All products are backed by the CRP promise of quality and superior service. Founded in 1954 as the North American partner of Continental AG, CRP Automotive has established a solid reputation for exceeding its customers' expectations. CRP maintains key distribution centers in New Jersey, California, and Mexico.

For additional information, visit: www.crpautomotive.com.

For additional information, contact:
Monika LaPrete
Marketing Communications Director
Phone: (609) 578.4100  
Fax: (609) 578.4050
E-mail: Mlaprete@crpindustries.com
More from Laboratory and Research Supplies and Equipment