Rust and Corrosion Inhibitor protects metal parts.
Press Release Summary: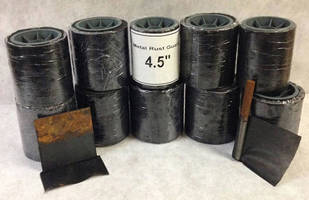 Used to prevent rust and corrosion on any type of metal, MetalRustGuard comes in roll form and is non-toxic, environmentally friendly, and FDA-approved. This self-adhesive protective wrap, which is reusable and requires minimal cleanup after removal, does not require use of any other Volatile Corrosion Inhibitor (VCI). Applications include short- and long-term protection regarding shipping/storing metal tools and components.
---
Original Press Release:
BORIDE Engineered Abrasives Proud to Introduce MetalRustGuard
(Traverse City, MI) – BORIDE Engineered Abrasives is pleased to introduce MetalRustGuard, a revolutionary new rust and corrosion inhibitor, as the latest addition to our product offering. MetalRustGuard comes in the form of a protective wrap and was developed to prevent rust and corrosion on any type of metal. The non-toxic, environmentally friendly and FDA approved wrap is self-adhesive, easy to apply, re-usable and requires minimal cleanup after removal. "MetalRustGuard is self-adhesive when needed to be and does not require any other Volatile Corrosion Inhibitor (VCI) to be used," says Josh Arouh, MetalRustGuard Product Expert. "It replaces the need for expensive and wasteful VCI bags and films, or gunky rust inhibitors that are difficult to clean and inconsistent. The installation is simple. Just cut and apply the material to ANY metal product or piece."

MetalRustGuard provides short and long term protection when shipping and/or storing metal tools and components and is available in a roll form in sizes ranging from 4.5" to 36" that can be easily cut to the shape of a tool to provide the appropriate coverage for nearly any application. In addition, MetalRustGuard is lab tested and 100% made in the USA.

Learn more about the MetalRustGuard and the rest of BORIDE's full line of mold polishing equipment and supplies on our website borideabrasives.com.

About BORIDE Engineered Abrasives
For nearly forty years, BORIDE Engineered Abrasives has developed and manufactured abrasive products for industrial and consumer applications. BORIDE also distributes products sourced from our global network of suppliers and industry experts that our customers need to improve their quality and productivity.

CONTACT:  Annette Jarman
Sales & Marketing Manager – Mold Polishing Products
ajarman@borideabrasives.com
231.929.2121 x 1109
More from Construction Equipment and Supplies