Rugged XMC Graphics Module combines low power, high performance.
Press Release Summary: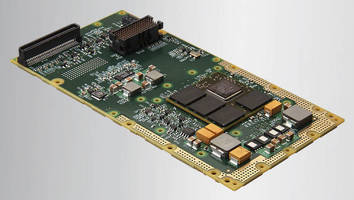 Based on 3U VPX VPX3-716 Graphics Engine (AMD Radeon™ E8860 GPU-based display card), XMC-725 delivers multiple independent channels (up to 4 heads) of graphics output: DVI/LVDS/RGB-HV/DisplayPort™. Performance is optimized over -40 to +85°C basecard edge temperature, and 2 GB dedicated onboard memory supports demanding applications. Requiring <17 W, SWaP-optimized design eliminates need to throttle performance and unwanted shutdowns. Applications may only require as little as 10 W draw.
---
Original Press Release:

Low Power Safety Certifiable Radeon(TM) E8860-Based XMC Graphics Module Introduced by Curtiss-Wright



New rugged multi-head graphics engine requires <17W, supports DO-178 Safety Certifiability



ASHBURN, Va. – Curtiss-Wright Corporation (NYSE: CW) today announced that its Defense Solutions division has introduced the XMC-725 Graphics Controller, one of the industry's lowest power safety certifiable AMD Radeon E8860-based XMC (VITA 75) graphics modules. The rugged XMC mezzanine module delivers multiple independent channels (up to four heads) of graphics output (DVI/LVDS/RGB-HV/DisplayPort™). Thanks to Curtiss-Wright's extensive design and thermal management expertise - resulting from our earlier E8860-based VPX3-716 3U VPX module - this XMC graphics controller delivers reliable, optimized performance over the full -40° to +85°C basecard edge temperature, yet it requires only <17W of power. This performance, unmatched in the embedded aerospace and defense market, eliminates the need to throttle performance and unwanted shutdowns which may result with alternative designs when operating in extreme environments. Even better, for many applications, the very low power XMC-725 will only require as little as 10W. The module also provides 2 GB of dedicated onboard memory to support demanding applications such as digital map and video processing, in deployed aerospace and defense subsystems.



"The XMC-725 is one of the lowest power AMD Radeon E8860 XMC graphics controllers available," said Lynn Bamford, Senior Vice President and General Manager, Defense Solutions division. "Joining our high performance safety certifiable VPX3-716 graphics engine, the XMC-725 delivers optimized display control for applications that demand the lowest possible power dissipation and size."



Based on Curtiss-Wright's popular 3U VPX VPX3-716 Graphics Engine, the industry's first E8860 GPU-based display card, the new XMC-725 mezzanine module is ideal for applications where low power is required, and/or an additional 3U VPX slot is unavailable. For system designs that require safety certifiable graphics, DO-254 artifact kits are available up to Design Assurance Level (DAL) C and DO-178C artifact kits are available up to DAL A.



In addition to its outstanding SWaP-optimized design, the XMC-725 also reduces design risk by offering the industry's longest Radeon E8860 lifecycle support. Supported by a CoreAVI® suite of embedded software drivers, including OpenGL® graphics and H.264/MPEG 2 video decode/encode drivers, the XMC-725 guarantees long term availability and support of the E8860 GPU through CoreAVI's 20 year supply program. The CoreAVI software drivers are designed to enable advanced graphics and video support on all popular real-time and safety critical operating systems as well as on customer proprietary platforms.



3U VPX-based Solutions for High Performance

For applications that require the highest possible clock rate E8860 GPU performance (as well as expanded I/O), the VPX3-716, with its superior thermal management, is able to support far higher clock frequencies than any available XMC alternative.  With the included XMC site, the VPX3-716 can support high performance graphics applications in a single slot or enhanced system capabilities when used for I/O.



Pre-Qualified/Pre-Integrated System Ready Application (SRA) Solutions

Working closely with leading solution vendors to further reduce customer program risk and costs, Curtiss-Wright also offers fully verified, pre-integrated System Ready Application (SRA) solutions based on the XMC-725, including digital maps and Human Machine Interface (HMI) solutions



Complete System Solutions

The XMC-725 complements Curtiss-Wright's broad family of rugged COTS modules, such as the Intel® CPU-based VPX3-1257 and the Freescale™ CPU-based VPX3-133 single board computers.



Sales inquiries: For availability and pricing information please forward all sales inquiries to Kavita Williams, Curtiss-Wright Defense Solutions, Tel: (661) 705-1142; Fax: (661) 705-1206; email: ds@curtisswright.com.



For more information on Curtiss-Wright Defense Solutions products, please visit www.curtisswrightds.com.



About Curtiss-Wright Corporation

Curtiss-Wright Corporation (NYSE:CW) is a global innovative company that delivers highly engineered, critical function products and services to the commercial, industrial, defense and energy markets.  Building on the heritage of Glenn Curtiss and the Wright brothers, Curtiss-Wright has a long tradition of providing reliable solutions through trusted customer relationships. The company employs approximately 9,000 people worldwide.  For more information, visit www.curtisswright.com.



Note: All trademarks are property of their respective owners.



John Wranovics

Dir. of Public Relations

Defense Solutions Division

Curtiss-Wright

T: 925.640.6402

jwranovics@curtisswright.com

More from Material Processing