Rugged SD Memory Card resists breakage and water/dust ingress.
Press Release Summary: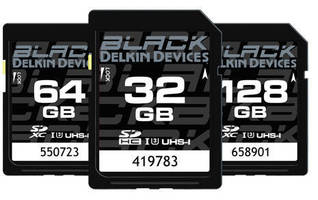 Available in 32, 64, and 128 GB capacities, Delkin BLACK SD Memory Cards feature case built using injection molding process. This lends to snapproof, waterproof, dustproof, and shockproof design capable of operating over -40 to +85°C range. Individually serialized cards, offering respective read and write speeds of 99 and 80 Mbps, are rated for UHS-I Speed Class 3. This ensures performance at minimum sequential write speed of 30 Mbps required to accommodate 4K applications.
---
Original Press Release:

Delkin BLACK, the World's Most Rugged Photography SD Memory Card.



Snap-Proof & Waterproof with a 48 Hour Replacement Guarantee.



POWAY, CA — Today Delkin Devices announced a new line of SD memory cards that feature a specialized casing and design that make them waterproof, dustproof, extreme temperature resistant, and virtually unbreakable. In addition to the rugged nature of the new cards, Delkin is offering a free 48 hour "No-Questions-Asked" replacement guarantee and enhanced customer service support for the cards, making these new cards not only fast (up to 99MB/s read/write) but also incredibly reliable and trustworthy.



Delkin BLACK SD cards are built using a proprietary injection molding process that differs from the traditional surface mounted components and welded case design that most cards utilize. This process uses an innovative material to give the cards advantages that are far superior in terms of reliability and ruggedness when compared to traditional memory cards. In addition to being significantly stronger and far less breakable than standard SD cards in bend/pressure tests, Delkin BLACK cards are dust, water, and shock-proof, and have an extended temperature range that allows the card to perform flawlessly in environments ranging from -40C to 85C.



Delkin BLACK SD Memory Cards. Available in Capacities 32GB-128GB. Click to Learn More. Delkin's Marketing Director, Anna Lopez, explains, "From the Arctic to the Sahara, and even through your washing machine, the unique design enables Delkin BLACK cards to perform through hazardous environments and remain totally usable without experiencing any data loss."



The added ruggedness of Delkin BLACK has allowed Delkin to offer a unique built-in insurance policy for the cards, called their "48 Hour, No-Questions-Asked Replacement Guarantee".



Lopez further explains, "This covers the unthinkable, including pet and child inflicted damage, gum-in-the-pocket accidents, salt exposure, and more. Should anything happen, just give us a call and we'll send you a brand new replacement card that you'll receive in less than 48 hours, along with a pre-paid shipping envelope to get your damaged card back to us."



The 48 Hour Replacement Guarantee is an automatically included insurance policy for Delkin BLACK cards that is in addition to Delkin's standard Lifetime Warranty. Users are asked to register their Delkin BLACK card using the card's unique serial number to activate the policy, which enables traceability and gives each owner the added security against loss, theft, and damage.



Delkin BLACK cards are available in capacities of 32GB, 64GB and 128GB, and individually serialized. Read and write speeds are proven at 99MB/s and 80MB/s respectively, and the cards are rated for UHS-I Speed Class 3, meaning they are guaranteed to perform at a minimum sequential write speed of 30MB/s - a rating that is required for many 4K applications.



Delkin BLACK cards are sold exclusively through authorized camera stores in the US and in Europe, and are not available online. For a complete list of authorized dealers, visit www.delkin.com/black.



To learn more about Delkin BLACK and its ruggedness, please view our breakability comparison video at: http://vimeo.com/delkindevices/blacksd



About Delkin Devices, Inc.

Delkin Devices' consumer group manufactures storage devices, such as memory cards and digital accessories, for the photography market. Delkin has been in business since 1986 and has offices located in the U.S. and Europe. High resolution images and samples are available for press and recognized members of the media.



If you would like more information regarding this product or any other Delkin product, please contact Anna Lopez at (858) 391-1234 x143 or email at alopez@delkin.com.



© Copyright 2014 Delkin Devices, Inc. All rights reserved.

More from Mechanical Power Transmission