Rugged Notebook Computer supports Intel® vPro technology.
Press Release Summary: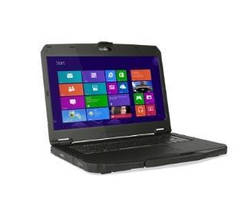 Based on Intel® Broadwell U series CPU platform, DURABOOK S15AB supports up to 16 GB memory and comes equipped with 15.6 in. LCD featuring full HD resolution (1,920 x 1,080). Unit includes integrated web camera with microphone, capacitive touch pad with L/R buttons, built-in SD card reader, and Smart Card reader. Housed in magnesium alloy case, rugged computer provides 1 GB integrated Ethernet and Intel dual-band wireless AC 7265 for wireless communications.
---
Original Press Release:

GammaTech Adds New 15.6" Notebook to It's Rugged DURABOOK Notebook Line



Model S15AB Comes with Full High-Def Resolution 15.6" Display, Latest Generation of Intel® Broadwell U Series CPU, Assorted Security Systems, and Unsurpassed GammaTech Toughness



FREMONT, Calif., – GammaTech Computer Corp., a major international manufacturer of rugged notebook and tablet computers, introduces the latest addition to its DURABOOK lineup: the rugged S15AB notebook. The unit features a generous 15.6" LCD display with full high-definition resolution (1920x1080 resolution); Intel's latest generation CPU; a Broadwell U series CPU platform; up to 16GB of memory; and the popular built-in DURABOOK toughness. With its variety of security systems, the DURABOOK S15AB is ideal for applications such as those found in the automotive industry, government and mobile applications.



"GammaTech takes its leadership position in the rugged notebook category very seriously," remarked Jen Chen, GammaTech President. "That is why we continually introduce new models to our DURABOOK line. This ensures that our customers, no matter what their field, can always choose a tough, dependable, cost-effective GammaTech product featuring the most up-to-date technology. Such is the case with our new DURABOOK S15AB notebook."



Latest Generation of Intel® Power

The unit features an Intel Broadwell U series CPU platform, a one-chip solution with a high-definition graphic engine, and featuring 15W low-power consumption. It supports Intel® vPro technology to meet mobility and security needs, and has a powerful Intel 5(th) Generation i-Core/Pentium CPU for better graphics, longer battery life, faster video conversions and stunning graphics.



GammaTech Toughness

The DURABOOK S15AB rugged notebook comes with GammaTech toughness built in. Its magnesium alloy case is 20 times stronger than ABS plastic. The unit is tested to MIL-STD 810G for vibration resistance and to ASTM 4169-08 standard for truck transport. Its C face - including keyboard, keypad, buttons, and indicators - offers spill protection. The unit also has a dust proof rating of IP-5X.



Integrated I/O Devices

The GammaTech S15AB notebook features an integrated web camera with microphone; a capacitive touch pad with L/R buttons to support multi-finger tracking and gestures; a built-in SD card reader and supports SDXC cards; and a Smart Card reader that allows the card to be fully inserted.



Staying in Touch

An assortment of wireless communications methods keeps S15AB users in touch with the world. These include 1GB integrated Ethernet, Intel dual-band wireless AC 7265, and an optional integrated M2 module (Type 3042) for WWAN/GPS EM7355/EM7305 module, and antenna support for bands of Gobi 3000 and LTE.



Applications

The new GammaTech DURABOOK S15AB rugged notebook is well suited for a number of applications. Among these are:



--  Industry: whether on the manufacturing floor, at a service department, or any location that relies on access to accurate data to ensure work is completed and customer requirements are satisfied, the DURABOOK S15AB's electronic feature-set allows users to increase productivity and connectivity to both customers and suppliers.

--  Government: the DURABOOK S15AB, assembled in the U.S., meets stringent application requirements without compromising functionality and flexibility. It is built with the latest technology advancements and components to endure the most rugged environments and situations.

--  Mobile Applications: this rapidly growing application, by its nature, demands computers be built to withstand large amounts of movement, jarring, and bumpy rides. With its magnesium alloy design, and military standards of drop, shock and spill resistance, the DURABOOK S15AB is designed to protect the system from mishaps that can occur at any time the unit is out on the job.



System Security

The S15AB offers a variety of security systems: TPM 2.0 module data protection, a Kensington lock connector, and administrator and boot password control. It is also Computrace ready in case the unit is ever stolen.



Other Features



--  Up to 16GB memory

--  Ample HDD/SSD and ODD Storage

    --  Supports 2.5" 7mm or 9.5mm SATA3 HDD (500GB to approximately 1TB), or SSD (128GB to approximately 512GB)

    --  5.25" super-multi optical disc drive or tray load Blu-ray drive writer with exclusive optical disk-tray lock that prevents unintentional tray eject from drop and vibration

--  Compatible with following operating systems: Windows® 10, Windows® 8.1 64-bit, Windows® 7 64-bit (Available Oct 2015), and Windows® 8.1 32-bit (Available Nov 2015)

--  High-definition audio

--  Variety of I/O ports with dust covers: two each USB 2.0 and 3.0 connectors, and one each head phone/MIC combo jack, RJ-45 jack for internal 10/100/1000M bit Ethernet, DC-in jack, 19-pin HDMI type A connector (resolution up to 4K), D-sub 9 pin RS-232 serial port, and 15-pin D-sub VGA port

--  Lithium polymer battery pack with a battery life of 8.5 hours

--  AC adapter

--  Integrated handle on front for easy carrying



Availability

The GammaTech Durabook S15AB notebook has an MSRP of $1999.99. As with all GammaTech notebook and tablet computers, the unit is available through authorized resellers nationwide and at www.GammaTechUSA.com. All GammaTech computers may be customized to customer specifications.



About GammaTech Computer Corporation

GammaTech Computer Corporation is a leader in the design, manufacture and sales of cost-effective, high-performance mobile computing solutions throughout North America. Its award-winning line of rugged and hardened notebook and tablet computers are designed and built-to-order to increase mobile productivity for business, government, healthcare, fire, public safety and a host of other entities.



GammaTech offers a complete portfolio of products that delivers power and performance needed in the most demanding work environments, resulting in increased productivity and accelerated return on investment. GammaTech is headquartered in Fremont, California, which provides the final assembly, inventory, service and technical support.



For more information, please visit GammaTech at www.GammaTechUSA.com.



Media Contact:

Andrew Wille & Susan van Barneveld

Copernio

Tel. 714-891-3660

GammaTech@copernio.com



All products/services and trademarks mentioned in this release are the properties of their respective companies.



Web Site: http://www.gammatechusa.com



©2015 GammaTech Computer Corporation. All rights reserved.

More from Materials