Rugged Laptop Computer incorporates 15 in. screen.
Press Release Summary: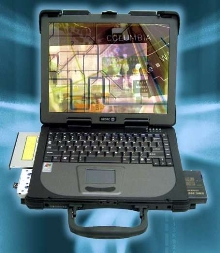 Certified for use in harsh applications, MobileForce(TM) M220-5 features die-cast magnesium body and sunlight-readable, XGA TFT LCD. Fanless notebook is powered by 1.4 GHz Pentium M processor with Centrino(TM) Mobile Technology, 400 MHz FSB, and 2 Gb DDR SDRAM. Along with swappable HDD, computer offers second bay for swappable CD-ROM, DVD-ROM, combo drive, or second battery and comes with integrated 56 Kbps Modem, 10/100 base-T Ethernet, and wireless 802.11b/g LAN connectivity.
---
Original Press Release:

Getac Offers Newest, Complete Rugged Laptop with Largest Screen Ever at 15 Inches


~ Commercially-priced M220-5 complies with MIL-STD 810F, IP54, IEC529 and IEC68 standards ~

LAKE FOREST, Calif. (May 2, 2005) - Getac Inc., a leading pioneer in the rugged mobile computing industry, today introduced their next generation of rugged laptops with a 15-inch screen, their MobileForce(TM) M220-5. The M220-5 is the first truly rugged laptop/notebook computer with its 15" TFT XGA LCD sunlight readable screen that is certified to work in harsh commercial and industrial applications. Customers on-the-go or in the field can expect everything that today's commercially available laptops provide in size and performance, but with the reliability that comes from the proving grounds of military experience and industrial survivability.

The MobileForce M220-5's certified ruggedness is accomplished through innovative designs. The 15" screen is sandwiched between a protective glass inside and a specially designed and user intrigued ribbed encasement on the outside. This lightweight die-cast magnesium body provides durability against three-foot drops and can handle dust and water jet spray from any direction and handle some of the worst punishment the environment, and Mother Nature can dish out.

Beyond the benefits of a larger viewing area, the laptop features the latest Pentium processor with extended run time on battery, Intel's Dothan LV processor (Pentium M) with Centrino(TM) Mobile Technology. The Getac signature fanless design and the magnesium body keep the laptop and processor cool even when operating in temperatures exceeding 130°F (55C). The combination means less power consumption, no noisy fan and lower maintenance, and a system that can take the heat, bounce or water spray.

In addition to what the retail market offers in laptops and notebooks, the MobileForce M220-5 allows users to quickly swap out hard disk drives (HDD) and a second bay that can house a CD-ROM, DVD-ROM, combo drive or second battery - all swappable as well. With capacity of up to 2 GB of DDR SDRAM and a 400 MHz FSB, users can operate the 1.4GHz processor at optimum performance levels. The M220-5 also includes built-in, integrated 56kbps Modem, 10/100 base-T Ethernet and wireless 802.11b/g LAN connectivity and offers factory optional internal modules for built-in GPS, COM-GSM/GPRS/CDMA with 1 antenna and Bluetooth technology.

"Consumers no longer have to view rugged laptops as bulky, heavy and cumbersome with limited display size or think of the technology as 'just for the military'," said Andy Ho, Product Manager. "The M220-5 with its 15" screen looks and acts like any ordinary laptop but now with a screen large enough, you can see more map area and less scrolling in mapping applications, watch movies more enjoyably and have a larger desktop to work with.

Other advantages? Try rinsing a typical laptop off under a running faucet after someone knocks your coffee or coke onto the keyboard or imagine the reaction after a TSA agent at the airport drops a normal notebook while inspecting it," continued Ho. "We've truly stepped up the full rugged computing specification, and what users expect from a fully rugged laptop."

For travelers, people on the move, workers in field conditions or in odd environments or simply desire a notebook computer that offers "peace of mind" after being dropped, the M220-5 brings the two worlds of military ruggedness and reliability together with high performance and convenience offered by a large flat screen notebook computer found in today's retail outlets.

Price And Availability

Available with Windows XP as standard, LINUX optional, the certified rugged MobileForce M220-5 is priced as low as $4,500 in single unit quantities with significant GSA, volume, OEM and ODM discounts available. Delivery is 3-4 weeks A.R.O. Full product specifications can be found at www.getac.com/m220-5.htm.

About Getac Inc.

Getac Inc. was founded in 1988 and has been a pioneer since in the rugged mobile computing industry by providing premier notebook and tablet PC solutions to the military, law enforcement, utility, telecommunication, manufacturing, transportation, and mobile workforce industries. The company manufactures four product categories, which are ultra lightweight rugged notebooks, full rugged wireless tablet PC's and full ruggedized notebook computers.

For additional information on Getac Inc. and its products, customers can contact the sales department at 20762 Linear Lane, Lake Forest, CA 92630-7804 · phone 949.699.2888 · fax 949.699.1440 · e-mail at [email protected]. The company is on the World Wide Web at www.getac.com.