Rugged In-Vehicle NVR is certified by Milestone Systems.
Press Release Summary: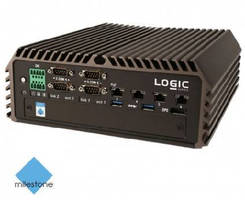 Housed in completely fanless and ventless chassis, Model MX1000 is engineered for security installations prone to dust, debris, shock, vibration, extreme temperatures, and rigors of transportation. Unit is powered by quad-core Intel i7 processor, enabling collection and processing of video from up to 25 HD cameras simultaneously. Onboard storage is provided by 2.5 in. HDD/SSD for up to 2 TB of total capacity with 1 TB SSD standard. System also comes with 8 GB of memory.
---
Original Press Release:

Logic Supply Unveils World's First Milestone Certified Rugged In-Vehicle NVR



New MX1000 system is engineered for security installations prone to dust, debris, shock, vibration, extreme temperatures and the rigors of transportation applications.



SOUTH BURLINGTON, Vermont/COPENHAGEN, Denmark -- Leading manufacturer of industrial and embedded computers, Logic Supply (www.logicsupply.com), has released the first ever rugged mobile NVR certified by Milestone Systems, the global leader in open platform IP video management software, for use with their XProtect® VMS platform.



The new Logic Supply MX1000 Rugged In-vehicle NVR offers a dependable alternative to other digital recording hardware, with the advantages of an extended operating temperature range, a completely fanless and ventless chassis, low power requirements and variable power capabilities for transportation applications.



Logic Supply MX1000

"Over the last few years we've been seeing surveillance applications move outside the office complex. The dust, heat and shock found in construction, oil and gas, outdoor and transportation installations challenge commercial grade NVRs," said Logic Supply VP of Sales Brett Mancini. "As the first rugged NVR to be certified by Milestone, the MX1000 finally combines industrial-grade hardware with one of the world's leading video management platforms."



The rigorous testing and certification process established that the Logic Supply MX1000 performs as a video display, recording, and storage platform within the Milestone XProtect VMS system at a level that is two to three times higher than benchmarks provided by the Milestone Server and Storage Calculator, even when displaying all cameras simultaneously.



The certification ensures that integrators and end users designing, installing and operating surveillance systems can be confident that the MX1000 will record and archive video reliably.



"This is our first Milestone Certified in-vehicle storage solution," said Reinier Tuinzing, Milestone Strategic Alliance Manager, Americas. "We've seen tremendous demand for these kinds of rugged edge devices. When combined with the MX1000, XProtect VMS can now go anywhere."



The Logic Supply MX1000 is available now by visiting www.logicsupply.com/milestone by calling +1 802 861 2300, or via the Milestone Solution Finder. The MX1000 will also be offered via select Milestone's resellers.



The Logic Supply MX1000 Rugged Mobile NVR

The MX1000 is powered by a Quad-Core Intel i7 processor, enabling the system to collect and process video from up to 25 HD cameras simultaneously. The hardened, fully fanless and ventless enclosure protects the system from dust and dirt and helps prevent tampering. Onboard storage is provided by a 2.5" HDD/SSD for up to 2 TB of total capacity with a 1TB SSD standard. The system also comes standard with 8GB of memory with optional wide temperature components allowing for 0°C~60°C operation. Expandability is available via one full height and one half height PCIe Mini Card slot.



Onboard I/O options include 4 PoE ports, 8 USB, 6 RS-232/422/485 COM ports, 2x DisplayPorts, dual LAN, 8-Bit DIO, and DVI as well as remote switch and external fan connectors.



Milestone Certification Process Details

The Milestone Solution Certification provides verification that the MX1000 is optimized for performance with XProtect® VMS software. The certification documentation (view here) presents a summary of the results of the testing process.



The certification consists of three phases, beginning with two scenarios, where there is both a benchmark test and a maximum performance test. During each test, statistics from the Milestone XProtect Recording Servers are gathered to judge the performance of the system as a platform for video recording. These tests serve to identify that a given system meets minimum expected performance thresholds based on known benchmarks. The certification also measures the maximum number of cameras, at a given frame rate, resolution and codec that can be supported by the server and storage system.



About Milestone Systems:

Milestone Systems is a global industry leader in open platform IP video management software, founded in 1998 and now operating as a stand-alone company in the Canon Group. Milestone technology is easy to manage, reliable and proven in thousands of customer installations, providing flexible choices in network hardware and integrations with other systems. Sold through partners in more than 100 countries, Milestone solutions help organizations to manage risks, protect people and assets, optimize processes and reduce costs. For more information, visit: www.milestonesys.com.



About Logic Supply:

Logic Supply specializes in highly-reliable NVRs for challenging surveillance environments. Customers, including those in transportation, construction, energy, oil & gas, and law enforcement, rely on Logic Supply's rugged hardware to help monitor and secure their infrastructure. In addition to their surveillance and security products, Logic Supply offers branding and customization services for integrators who desire a one-stop approach. More than just a hardware company, Logic Supply is committed to offering ongoing fulfillment and support services for partners to help ensure project success every step of the way. Visit the Logic Supply website at www.logicsupply.com or email info@logicsupply.com.



Media Contact:

Darek Fanton

35 Thompson St.

South Burlington, VT

802-861-7443

marketing@logicsupply.com

More from Machinery & Machining Tools