Computer and Communication Terminals
Rugged Features and Quality Service Make QSI Corporation's QTERM-G58 Product of Choice for Vercet LLC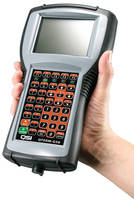 SALT LAKE CITY, UTAH. 17 March 2009. Vercet LLC has called QSI Corporation's QTERM-G58 handheld terminal the product of choice to offer their clients. Vercet LLC, a research and development company that specializes in the design of equipment for tough working environments is using the QTERM-G58 in a variety of environments, from the Russian arctic tundra to the bleak and wet open cast coal fields in the United Kingdom.

"The key component of the QTERM-G58 is its usability in any field environment our clients work in, from searing desert to arctic wasteland," said Justin Farrelly, Research Manager at Vercet LLC. "The combination of features, the integrated design and application tools and QSI's direct support for the QTERM-G58 allows us to specify this terminal to meet client needs with less engineering time and cost. We then proceed to design software and hardware to match it-meeting and exceeding client expectations."

The QTERM-G58 is a wireless and battery powered handheld computer. Built rugged, the QTERM-G58 is designed for applications in manufacturing, forestry, agriculture, asset management, process control, robotics, utilities and field service. Features include a 200 MHz processor, 89 mm (3.5") LCD, customizable 24- or 40-key keypad and optional WiFi or battery power.

"We are very excited to be working with Vercet and happy they have chosen the QTERM-G58." said Karen Stanley, Director of Sales at QSI Corporation. "Its wireless capabilities and proven ruggedness, coupled with our expert internal support staff make the QTERM-G58 the perfect solution. In addition, the low price point of the QTERM-G58 meets the demands for many users, especially in today's economy."

"QSI has been great to work with," adds Farrelly. "Every question we ask is responded to promptly and fully. The support we've received is well thought-out and aimed at ensuring intuitive and simple results. Our clients have never had one question about the product or its functionality, they just expect it to work, and it does."

For more information about the QTERM-G58, visit qsiindustrial.com

About QSI Corporation

Established in 1983, QSI Corporation is a manufacturer of rugged operator interface and mobile data terminals (TREQ®) for industrial OEMs and commercial vehicle systems integrators. QSI's human machine interface and mobile data terminal products include character and graphic terminals that are programmable, customizable, CE certified and NEMA 4/12/13 rated. Numerous interfaces are available, including EIA-232, EIA-422, EIA-485, J1708/1939, USB, Ethernet and Power-over-Ethernet. Designers of Qlarity®, QSI offers an object-based programming language for their graphic terminals. QSI excels at building custom and semi-custom terminals able to withstand high levels of shock, vibration, extreme temperatures, humidity and other environmental parameters.

All QSI Corporation products are designed and manufactured in the USA at the company's headquarters in Salt Lake City, Utah. For more information, contact QSI Corporation at 801-466-8770 or visit www.qsicorp.com.

About Vercet LLC

Incorporated in 1994, Vercet is a commercial physical, materials and electronics research and development company that specializes in the design of equipment for tough working environments for a variety of industries including: oil and gas, marine and seismic research. Their group of talented and innovative engineers specializes in analog design, embedded firmware design, mechanical and electro mechanical design, and product commercialization and integration. With office locations in Carrollton, Texas (Vercet LLC) and in the United Kingdom (Vercet Ltd), Vercet offers quality service and custom solutions to customers worldwide. For more information, call 281-201-0018 or visit www.vercet.com.


More from Chemicals & Gases