Rugged Conveyor Systems feature stainless steel belts.
Press Release Summary: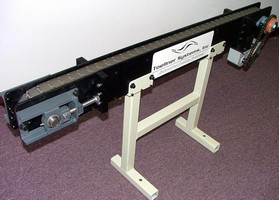 Rugged stainless steel belted conveyor systems are modular and chain-driven, run off standard 110 Vac, and include built-in safety torque limiter. They are available in any length and have widths ranging from 2 to over 12 in. Different widths and speeds are also available on request.
---
Original Press Release:

Toellner Offers Rugged New Product Line in Automation - Stainless Steel Belted Conveyor Systems



Wisconsin Rapids, WI - January 10, 2008 - Toellner Systems, Inc. today announced the introduction of their new rugged stainless steel belted conveyor systems. The belts installed on these systems are manufactured from very tough stainless steel. In fact, the entire transfer system is extremely beefy and constructed from high quality, factory inventory. Designed by Toellner to take years of constant abuse and with the most challenging, heavy and obtrusive parts in mind, they have released this new line of conveyor transfer systems.

The units are available in any length and have a width ranging from two to over twelve inches. Different widths and speeds are also available on request. Other quality features on these systems include that they are modular and can be configured into many different shapes. They run off standard 110 VAC, are chain driven and have a built-in safety torque limiter, which is a great feature!

"It is always a great feeling when we unveil a technologically improved or new product line to enhance our ever-increasing automation systems," stated Bruce Curtis, Marketing Director for Toellner Systems, Inc. "If it's something of this caliber, it's especially satisfying as it gives Toellner Systems the ability to help and provide customers with even more creative solutions for that perfect fit to their own, individual and unique operations."

Toellner Systems has been in operation since 1986. It is an industry leader with its applications in helping companies dramatically increase throughput production while decreasing overhead, manufacturing automatic parts loaders, catchers and conveyors for CNC lathes, machining centers, grinders, shaft cut-off, multi-spindle chuckers and thread rolling. Toellner specializes in serving automated solutions to many industries, among them, the metal, powered metal, titanium, cast iron, stainless steel, brass, copper, ceramic, composite, wood, rubber, graphite and plastic industries.

For additional information please contact [email protected]
Phone: 715-424-4530, ext. 14