DC to AC Power Supplies (Inverters)
Rugged, Convection Cooled, DC-AC Pure Sine Wave Inverters for 24Vac Industrial Applications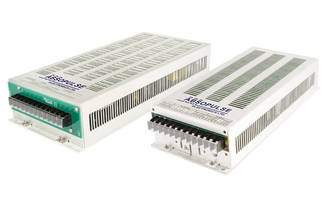 The CSI 200-XX/24F3 and CSI 300-24/24FX series of rugged, high performance DC-AC inverters are designed for 24Vac industrial applications that require clean, pure sine wave output voltage. The units deliver 200VA and 300VA respectively.



The industrial quality inverters use field-proven, microprocessor controlled high-frequency PWM technology to deliver 24Vac isolated, pure sine wave output voltage. High frequency conversion enables compact construction, low weight and high efficiency.



The CSI 200-XX/24F3 series operates from a nominal input of 24Vdc or 48Vdc. The CSI 300-24/24FX series accepts a nominal input of 24Vdc. Custom input voltages are available on request. Efficiency is typically 80% at full load.



The input and output are filtered for low noise. The input on both designs meets EN55022 Class A with wide margins (Class B on request). This ensures that the inverters can be used in EMI sensitive environments without additional filtering. The units are designed for compliance with C22.2 No. 107.1 - 01, UL 458 and EN/UL60950-1 standards. Electronic protection for both series includes overload, over-voltage, short circuit protection, inrush protection when connected to a DC source, and thermal shutdown with automatic recovery.



Cooling is by conduction via baseplate. Additional cooling is achieved by natural convection through the cooling slots. All heat generating components are installed on aluminum heatsink blocks which are thermally connected to the base plate. They are rated for operation over a 0°C to +50°C temperature range with no derating required.



The 200VA version is housed in a ruggedly constructed 132 x 62 x 290 mm enclosure; the 300VA have a 153 x 67 x 357 mm form factor. The units are typically chassis mounted. Requirements for custom mounting options can be accommodated.



For price and availability, please contact ABSOPULSE.



Related