Rugged and Portable Power System serves remote field applications.
Press Release Summary: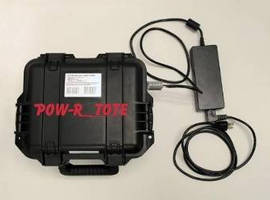 Supplied in 11.8 x 9.8 x 7.7 in., heavy-duty, watertight storm case to handle harsh environment deployments, 23 lb POW-R Tote® uses Lithium-Ion battery technology and offers 2 standard power connectors: automobile 12 V auxiliary outlet (car plug) and Anderson SB50 Powerclaw® connector. Other connectors and energy capacities can be accommodated via customization. Able to be recharged with external 115/240 Vac plug-in adapter, this 600 W, 12–16.8 V portable power system has 100 Ah capacity.
---
Original Press Release:
Rugged, Lightweight Portable Power System Provides Reliable Power for Remote Field Applications
Powerful Lithium-Ion Battery Technology Provides Safe, Reliable Energy for Military, Law Enforcement, Emergency, and Fire/Rescue Field Operations

HOUSTON -- A rugged, lightweight, 12V/100Ah portable power system, by power systems innovator Southwest Electronic Energy Group (SWE), is breaking new ground in higher capacity and  compact-convenient energy for wherever standard power sources are unavailable.   POW-R Tote®, originally employed by law enforcement for quiet electrical energy during long stakeouts, is now available to everyone from police agencies to first responders to military, fire/rescue operations and many more field applications.   About the size of a lunchbox, and weighing only 23lbs, the eco-friendly and reliable POW-R Tote uses safe, powerful Lithium-Ion battery technology to deliver 2X longer run time and 2X more power at ½ the weight when compared to a typical 12V lead acid  battery commonly used in similar applications.

Housed in a Heavy Duty Storm Case and Equipped with Low and High Power Connectors

POW-R Tote® is housed in a virtually indestructible, heavy-duty, watertight storm case to handle harsh environments.   Two power connectors come standard:   An automobile 12v auxiliary outlet (car plug) powers and recharges cells phones, notebook computers, tablets and other low power devices.  An Anderson SB50 Powerclaw® connector is also provided for higher power gear like surveillance, drugs test kits and power tools.   SWE will configure-to-order other connectors and energy capacities to meet customers unique needs.  Recharging POW-R Tote is easy with an external 115V/240V AC adapter that plugs into any outlet.
POW-R Tote® Specifications
Voltage16.8V max
14.8V nom
12.0V minCapacity100Ah
1.5 KWhMax Continuous Current40APower600WWeight23lbsDimensions11.8"x9.8"x7.7"Operating TemperaturesCharge:  0ºC to 45ºC
Discharge/Storage:  -20ºC to 50ºCGaugeVoltmeterIntelligent Battery Management SystemIntegratedCharger115/230V AC Adapter

The Benefits of POW-R Tote® Lithium-Ion Battery Power

Lithium-Ion is the fastest growing type of battery because it's an awesome source of energy.   POW-R Tote Lithium-Ion delivers 4X energy per pound compared to a standard car battery.   Reliable, safe and clean with very low maintenance, Lithium-Ion is used in a broad spectrum of applications including power tools, satellites, pacemakers, automobiles, personal care products, cell phones, cameras and notebook computers.

Three Year Limited Warranty

Priced at $2,499, POW-R Tote® is backed by SWE's 3 year limited warranty.  Orders can be placed directly with SWE by calling 800-231-3612.  Availability is 10 weeks after receipt of order.

About SWE
Since 1964 SWE has been a leader in battery solutions for the Oil & Gas industry and many other commercial and industrial customers.  This includes 20 years as a pioneer in ruggedized Lithium battery products and 13 years of Lithium-Ion battery products.  We hold over 10 patents in Lithium-Ion battery technology with more pending.   The SWE corporate campus is headquartered near Houston, Texas with over 55,000 square feet of state of the art R&D and ISO 9001-2008 certified manufacturing.  At SWE, our focus is on quality, customer service and reliability in every facet of our business.

More information can be found at http://www.swe.com

Please refer all reader inquiries to:
Southwest Electronic Energy Group (SWE)
823 Buffalo Run
Missouri City, TX  77489
1.800.231.3612

CONTACT: Amy Dukes, adukes@swe.com, 281.240.4000
More from HVAC