Rugged 3U VPX SBC provides support for data integrity, security.
Press Release Summary: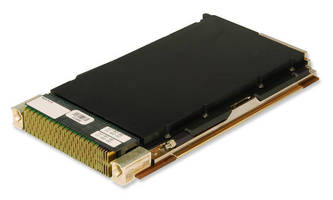 Available in 5 build levels from benign environment (air cooled) to fully rugged (conduction cooled), SBC328 leverages 6th Generation Intel® Core™Â (Skylake) technology and 2.8 GHz Intel Xeon® E3-1200 v5 processor, integrated graphics and memory controller, and CM236 chipset. Range of onboard I/O is complemented by on-board mezzanine expansion site, and memory resources include 16 GB DDR4 SDRAM, up to 32 GB NAND Flash (SSD), 32 MB BIOS Flash, and 16 MB BIOS backup Flash.
---
Original Press Release:

GE Takes Advantage of Latest Intel Processor to Deliver Leading Edge Performance from New Rugged 3U VPX Single Board Computer



SBC328 delivers significantly higher performance than predecessor

Provides advanced support for data integrity, security

Straightforward, cost-effective upgrade from previous generation



HUNTSVILLE, AL.—GE Energy Management's Intelligent Platforms  business (NYSE: GE) today announced the SBC328 GE Rugged 3U VPX single board computer (SBC). Based on 6th Generation Intel® Core™ technology ("Skylake"), it is designed to deliver optimum performance in a range of demanding high performance embedded computing (HPEC) applications in harsh military/aerospace environments such as electronic warfare, radar/sonar, command and control, ISR and signal processing. The SBC328 also offers an outstanding solution in challenging industrial and commercial deployments such as energy exploration and transportation.



The new SBC features the latest Intel Xeon® E3-1200 v5 family processor operating at 2.8GHz which delivers substantially higher performance than previous-generation processors. With integrated graphics and memory controller all in one device, and coupled with the CM236 chipset, this provides an upgraded level of I/O bandwidth for both on-board and off-board functions.



Also notable is the enhanced support the SBC328 provides to enable customers to implement advanced security capabilities such as anti-tamper and information assurance. This support includes an inherently secure FPGA solution, and support for Intel's Trusted Execution Technology.



In line with GE's strategy of maximizing the long term value of customer investments, the SBC328 offers board level compatibility with its predecessor, the SBC326, enabling a straightforward, cost-effective upgrade path that will deliver increased processing power, I/O bandwidth and functionality.



The SBC328 benefits from its support for GE's AXIS Advanced Multiprocessor Integrated Software development environment which enables the rapid creation and testing of sophisticated HPEC applications, reducing risk, cost and time-to-market.



"A significant proportion of new programs in the defense and aerospace market are choosing 3U VPX because of its ability to deliver significant processing power in environments that are highly constrained in terms of size, weight and power," said Richard Kirk, Director of Core Computing at GE Intelligent Platforms. "The SBC328 is the optimum response to that requirement with its unmatched combination of performance - enabled by Intel's latest processors - functionality and GE Rugged robust reliability."



"6th Generation Intel Core technology is enabling companies like GE to develop exciting new products, such as the SBC328, that deliver the levels of processing performance that demanding customers need for their most challenging applications," said Samuel Cravatta, product line director, Internet of Things Group, Intel. "Beyond that, 6th Generation Intel® Core™ technology integrates new functionalities that enable new generations of smaller and lighter embedded computing solutions that can be deployed in environments that were previously unthinkable."



In addition to a comprehensive range of onboard I/O features, the SBC328 also offers an on-board mezzanine expansion site for enhanced system flexibility. Memory resources include 16 GB DDR4 SDRAM, up to 32 GB NAND Flash (SSD), 32 MB BIOS Flash and 16 MB BIOS backup Flash.



A rich software choice is planned for the SBC328, including AMI UEFI with support for BIOS Guard for signed image execution; FSP* enabled coreboot  (Open Source bootloader); Open Linux® (Fedora), Red Hat Enterprise Linux, Wind River Linux, VxWorks® 7, Windows® 10; comprehensive Deployed Test Software: FSP* enabled BIT (PBIT function), and BCS (CBIT and IBIT function); P2P (PCI Express® Peer-to-Peer protocol) for `VxWorks and Linux.



The SBC328 is available in five build levels from benign environment (air cooled) to fully rugged (conduction cooled).



About GE Energy Management

GE Energy Management provides customers with electrical solutions that enable local utilities and energy-intensive industries to more efficiently manage electricity from the point of generation to consumption. For more information, visit http://www.geenergymanagement.com/.



About GE's Intelligent Platforms business

GE's Intelligent Platforms business, part of GE Energy Management, is headquartered in Charlottesville, VA. The company's embedded computing segment, headquartered in Huntsville, AL, and Towcester, England, provides one of the industry's broadest ranges of high performance, rugged, SWaP-optimized embedded computing platforms for a broad range of industries – both commercial and military/aerospace – where harsh environments need GE's expertise in robust, reliable, rugged solutions. Backed by programs that provide  responsive customer support and minimize long term cost of ownership for multi-year programs, GE's solutions are designed to help customers minimize program risk and cost, and speed time-to-market. For more information, visit geembedded.com.



About the Intel Internet of Things Solutions Alliance

GE's Intelligent Platforms business is an associate member of the Intel Internet of Things Solutions Alliance.  From modular components to market-ready systems, Intel and the 350+ global member companies of the Alliance provide scalable, interoperable solutions that accelerate deployment of intelligent devices and end-to-end analytics. Close collaboration with Intel and each other enables Alliance members to innovate with the latest technologies, helping developers deliver first-in-market solutions.



For more information, contact:

Ian McMurray

Communications Manager

GE Intelligent Platforms

+44 (0) 1327 322821

ian.mcmurray@ge.com



Intel and Xeon are registered trademarks, and Core is a trademark, of Intel Corporation. VxWorks is a registered trademark of Wind River Systems.  Linux is the registered trademark of Linus Torvalds.  PCI Express is a registered trademark of PCI-SIG. All other trademarks are the property of their respective owners.



Ian McMurray

Communications Manager

GE Intelligent Platforms

Tove Valley Business Park

Towcester

Northamptonshire

England NN12 6PF

Telephone:  +44 (0)1327 322821

Email: ian.mcmurray@ge.com

Web:  www.geembedded.com



GE Intelligent Platforms Ltd, registered in England and Wales (3828642) at 100 Barbirolli Square, Manchester, M2 3AB, VAT GB 729 849 476

More from Agricultural & Farming Products