Rubber Pad Forming Press utilizes high-pressure process.
Press Release Summary: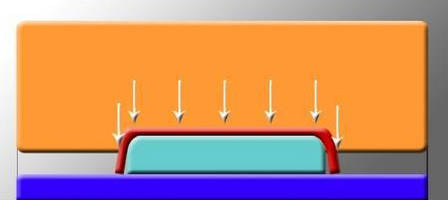 High-pressure rubber pad forming press utilizes elastoforming process based on one male or female tool that is pressurized against stack of elastomer pads. Under elevated pressure, forming pad forces blank around or into die cavities. Process is particularly suited for low- and medium-volume production and features purely vertical force that induces blank holder effect. Elastomer pad fills contour without need for second die.
---
Original Press Release:
Elastoforming Process Alternative to Fluid Cell Forming
Cyril Bath Company has advanced the traditional low pressure rubber pad forming press into a modern, highly efficient, and accurate high pad pressure process. The Elastoforming process is based on a single tool (either male or female) pressurized against a stack of Elastomer pads. The forming pad, under the very high pressure, forces the blank around or into the die cavities. With extremely low tooling investment compared to stamping or deep drawing, this process is particularly valuable for low and medium volume production. Elastoforming Advantages Over Fluid Cells
Fluid Cell Forming produces a common defect that results from the horizontal force of the bladder.
Purely vertical force induces blank holder effect
Production cost per an Elastoformed part is 60% less than with a Fluid Cell
The Elastomer pad fills the contour without the need for a second die.
Lowers both tool and production cost.
Reduced setup and lead times on parts and prototypes. For more information visit www.cyrilbath.com About Cyril Bath Company The Cyril Bath Company was established in 1918, and we continue to maintain world-class leadership in the research and development, design and manufacture of all types of stretch forming equipment, used throughout a variety of industries around the world. Our primary focus is in the aerospace industry, offering custom solutions to commercial and business aircraft companies, as well as manufacturers of turbine engines. The Cyril Bath Company designs and builds a variety of special hydraulic presses to meet unique stretch forming requirements. Our stretch forming systems have been provided in aerospace part-making applications for leading commercial air plane makers, as well as the private aircraft builders.
More from Electrical Equipment & Systems