Rubber Molding Presses offer ergonomic working height.
Press Release Summary: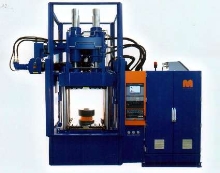 Ergo Series is equipped with FIFO screw/ram injector that delivers uniformly plasticized and metered-size shot. Constant L/D ratio guarantees homogenous preparation of compound. Microprocessor control allows process parameters to be set digitally on control panel. Presses include linear positioning system for clamping and injection side, 5 temperature control zones, separate control panel for manual operation, and cooling unit for plasticizing cylinder and injection pot.
---
Original Press Release:
New Maplan "ERGO" Molding Press Promotes Shop Ergonomic Advantages and Productivity

Hanover Park, Illinois. A newly engineered "Ergo" rubber molding press was recently introduced by Maplan GMbh at Europe's K-2004 Rubber Show that will improve manufacturing productivity and contribute to the overall improvement in shop environment, announced David Duginski, president of Maplan/Starlinger North America, Inc.

The "Ergo" was designed to meet user needs for a top-injection rubber molding press who had expressed interest in machine concepts with lower working height without pits or platforms. Maplan engineered their "Ergo" series of rubber molding presses that also solved past attempts to reduce other problems that arose, including: an excessive number of moving parts, inadequate mold support, extremely long nozzles tips, nozzle leakage, and other shortcomings.

The new "Ergo" presses are finding acceptance with manufacturers of elastomer-molded products including the automotive and transportation industry, for farm vehicles, the aviation industry, in the manufacture of pipe couplings, sporting goods, in the making of appliances, and for all markets where rubber-molded components are an integral part of the finished product.

Three models are currently available in the Maplan "Ergo" press series: the MTF 1500/250, MTF 4000/400 and the MTF 4000/650.
Redesigning the clamp unit of the Ergo presses to lower the working height, Maplan engineers were also able to reduce the number of moving parts and maintain the maximum platen support. The combination of a lower working height and the reduction in the number of moving parts serve to increase the speed and reliability of the clamping unit.

The press is equipped with the Maplan FIFO "First-in, First-Out" screw/ram injector that delivers uniformly plasticized and metered-size shot. A constant L/D ratio guarantees the homogenous preparation of the compound. A bonus benefit of the Maplan Fifo injector is the short distance from the pot chamber to the nozzle that reduces the pressure lost during the injection sequence.

Standard equipment for Maplan Ergo presses include: a Maplan PC400 microprocessor control where all process parameters can be set digitally on the control panel, a linear positioning system for the clamping and injection side, five temperature control zones, a separate control panel for manual operation, a cooling unit for plasticizing the cylinder and injection pot, a safety light curtain in the front side of the mold area, and more.

Standard optional equipment available to increase productivity and to meet specific customer specifications include: a Maplan PC4000-plus microprocessor control, hydraulic upper and lower ejectors, heating and cooling devices for the plasticizing cylinder, injection chamber and screw, a vacuum pump, automation devices that include a front and rear center-plate shuttle, an upper and/or lower-side shuttle brushing device, and much more.

Basic specifications and dimensions for the Maplan "Ergo" MTF 4000/400, pictured here, are:

Clamp Tonnage: 440                          (400)

Available Shot Sizes:  91 in.³, 152 in.³    (1,500cc, 2,500cc,

                       244 in³               4,000cc.)

Total Height:          139 in.             (3,550 mm.)

Working Height:         33 in.              (855 mm.)

Total Width:           100  in.            (2,550 mm.)

w/ control cabinet:    168  in.            (4,270 mm.)

Total Depth:            62 in.             (1,580 mm.)

Total Weight:          28,600 lbs.         (13,000 kg.)

w/control cabinet:     33,440 lbs.         (15,200 kg.)

Maplan, with engineering and production facilities in Ternitz, Austria, and a member of the Starlinger Group, Vienna, Austria, manufactures and distributes a comprehensive line of top, bottom, parting-line and horizontal rubber injection molding machines, twin-injector presses, combination LIM and millable material molding presses for elastomer products manufactured the world.

For more information, contact: Mr. David Duginski, President, Starlinger North America, Inc., 900 Muirfield Drive, Hanover Park, Illinois 60133. Phone: 630/924-0100. Fax: 630/924-1675. Web: www.maplanstarlinger.com. E-mail: sales@maplanstarlinger.com
More from Mechanical Power Transmission