RTU System uses driver to communicate with wireless sensors.
Press Release Summary: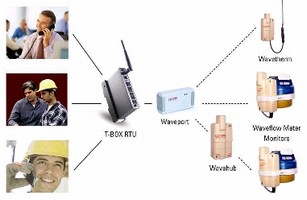 Featuring added driver, IP-based T-BOX RTU enables integration of SCADA, control, and communications functionality in one package. Driver allows RTU to communicate with network of Coronis Systems wireless sensors and brings benefits of T-BOX technology to SCADA system applications. RTU can serve information including alarms, live status, machine health, trends, and historical reports to multiple recipients via Internet, Intranet, e-mail, or SMS text messaging.
---
Original Press Release:

Semaphore Adds Coronis Systems Wireless Sensor Driver to Compact SCADA System



NASHUA, NH- Semaphore, a CSE-Global company, has introduced a firmware update that allows its T-BOX line of RTU products to communicate with a network of Coronis Systems wireless sensor products. The T-BOX RTU line is the first IP-based telemetry solution that enables complete integration of SCADA, control, and communications functionality in one rugged package and the addition of a driver for one of the world's leading wireless sensors gives users even greater flexibility in implementing cost-effective SCADA system solutions.

The driver brings the benefits of T-BOX technology to SCADA system applications such as automated meter reading (AMR), industrial monitoring, and infrastructure management. The T-BOX RTU can serve information including alarms, live status, machine health, trends, and historical reports to multiple recipients via the Internet, Intranets, e-mail, or SMS text messaging. The T-BOX RTU further provides programmable control functionality.

Coronis Systems sensor products provide a reliable solution for monitoring and recording process data wirelessly in energy, food & beverage, industrial, and water supply applications. Based on Wavenis ultra low power (ULP) wireless technology, the Coronis Systems sensor products benefit from extremely long battery life and make wireless solutions possible even in the most hard-to-reach places.

T-BOX provides Windows menus that allow simple configuration of messaging as well as reports for alarming, live information, historical information, and trends. No programming is required. Also easily configured are Web pages, which include live and historical information as well as graphical representations of site conditions. The reports and web pages are resident within the T-BOX RTU and are available to all recipients on their PDAs or personal computers.

Since T-BOX RTU products also include multiple communications protocols, they can be used to interface Coronis Systems sensor products to a broad variety of SCADA systems.

For more information about Semaphore solutions, visit www.cse-semaphore.com, or contact Semaphore at 15B Charron Avenue, Nashua, NH 03063, 603-577-3803.

About Semaphore
Established in 2006, Semaphore was the result of a merger of two CSE-Global companies, RTUnet, of Australia, and TechnoTrade SA, of Belgium. For over 20 years, these companies have provided leading solutions for telemetry, automation, and remote monitoring and have an installed base of more than 70,000 devices. For more information, visit www.cse-semaphore.com.

Semaphore is a wholly owned subsidiary of CSE-Global Limited (CSE), a Singapore-based, industrial integration, manufacturing and distribution group with locations in 20 countries. CSE employs more than 1,000 people worldwide, with over 85% representing its design, engineering, and project management capability and experience. For more information, visit www.cse-global.com.

Contact:
Kevin L. Finnan
CSE-Semaphore
860-618-0293
kevinf@cse-semaphore.com

More from Machinery & Machining Tools