RTI Data Distribution Service 4.5 Accelerates Integration of Real-Time Systems-of-Systems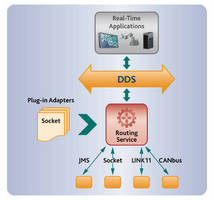 Eliminates the need for custom bridges between different protocols and independently developed applications

SUNNYVALE, CA - Real-Time Innovations (RTI), The Global Leader in DDS, announced today the release of version 4.5 of RTI Data Distribution Service. Version 4.5 introduces new features that significantly reduce the time and cost required to build and integrate real-time systems-of-systems. These features include new mediation capabilities to bridge between applications that natively support different external interfaces and protocols.

RTI Data Distribution Service 4.5 extends the capabilities of the market-leading implementation of the Object Management Group (OMG) Data-Distribution Service for Real-Time Systems (DDS) standard. RTI's DDS platform provides the integration infrastructure for more than 400 unique high-performance and mission-critical applications in industries that include defense, aerospace, financial services and energy. With RTI Data Distribution Service 4.5, it is now easier to integrate these applications with each other and with applications that use non-DDS middleware, including legacy systems.

"Real-time systems are rapidly increasing in scale and diversity," said Dr. Jerry Krasner, vice president of Embedded Market Forecasters.

"Driven by initiatives like the Department of Defense's Global Information Grid, more and more systems are being integrated that were not originally designed to interoperate. Our research based on survey data of 794 developers shows that RTI Data Distribution Service already provides more than a 40 percent cost savings compared to roll-your-own integration solutions. We expect the new features of version 4.5 to extend that benefit."

RTI Data Distribution Service 4.5 offers new capabilities to mediate between disparate applications. Using a new Adapter Software Development Kit (SDK), systems integrators or RTI's services organization can build and deploy bridges to integrate DDS and non-DDS systems in a fraction of the time required to develop completely custom solutions. Bridges automatically inherit advanced RTI Data Distribution Service capabilities, including automatic discovery of applications; data transformation and filtering; data lifecycle management; and support across operating systems, programming languages and network transports. With more than 20 new Application Programming Interfaces (APIs), the Adapter SDK provides developers with a flexible tool to enhance the interoperability of their systems.

The Adapter SDK includes prebuilt adapters that can be used out-of-the-box to interface with third-party Java Message Service (JMS) providers or legacy code written to the network socket API. Adapters include source code so they can be easily modified to meet application-specific requirements or serve as a template for quick creation of new custom adapters.

RTI Data Distribution Service 4.5 also supports DDS-to-DDS bridging. This allows unmodified DDS applications to communicate even if they were developed using incompatible interface definitions. This is often the case when integrating new and legacy applications or independently developed systems.

"RTI Data Distribution Service 4.5 brings the integration benefits of an Enterprise Service Bus (ESB) to real-time systems," commented Dr. Edwin de Jong, director of product management and strategy at RTI. "Previously, high-performance and mission-critical applications could not take advantage of the flexible integration capabilities provided by an ESB because of the low performance and poor scalability of ESBs' centralized architecture. With RTI's new mediation capabilities and serverless architecture, integrators can now easily connect disparate real-time applications without limiting or sacrificing latency, throughput or scalability."

In addition to its advanced mediation capabilities, RTI Data Distribution Service 4.5 provides new APIs for fast data lookup and access, enhanced support for multicore processors and expanded operating system support, including Mac OS X platforms.

Availability

RTI Data Distribution Service 4.5 is available now and can be downloaded from www.rti.com/downloads/. RTI Data Distribution Service is free of charge for evaluation, research, universities and internally-funded Independent Research and Development (IRAD).

RTI Data Distribution Service supports the Windows, Linux, Solaris, AIX and Mac OS X operating systems on desktop and server platforms, as well as the INTEGRITY, LynxOS, VxWorks, Windows CE and Windows Mobile real-time and embedded operating systems. APIs are available for the C, C++, C# (.NET), Java, Real-Time Specification for Java (RTSJ) and Ada programming languages.

Live Webinar

RTI will be hosting a live webinar on July 13 to review how RTI Data Distribution Service 4.5 and the new capabilities ease the integration of large-scale systems. For more information and to register, visit www.rti.com/go/large-scale-dds.

About RTI

Real-Time Innovations (RTI) is the world's leading provider of middleware compliant with the Object Management Group (OMG) Data-Distribution Service for Real-Time Systems (DDS) standard. With over 70% market share, more than 400 unique projects take advantage of RTI's software and expertise to slash the time and cost of systems integration. These span a broad range of industries including aerospace, defense, finance, intelligence, power generation and transportation. Founded in 1991, RTI is privately held and headquartered in Sunnyvale, CA. For more information, please visit www.rti.com.

RTI, Real-Time Innovations, The Real-Time Middleware Company and RTI Data Distribution Service are registered trademarks or trademarks of Real-Time Innovations, Inc. All other trademarks used in this document are the property of their respective owners.


Related