RTG Crane increases efficacy via bottom-located operator cabin.
Press Release Summary: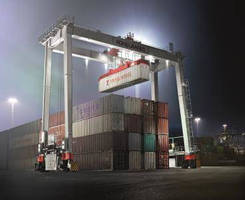 Addressing needs of ports industries, BOXHUNTER rubber tyre gantry (RTG) crane increases operational efficiency and conserves time in retrieving storage and shipping containers. Positioning of cabin at bottom accelerates operator entry and initiation of operation. Also, video and laser scanning technologies eliminate need for operator to be located at top of crane. In container yard, BOXHUNTER can stack one-over-five containers high. Crane can handle ~15+ container movements per hour.
---
Original Press Release:

Konecranes' New BOXHUNTER Revolutionises RTG Crane Efficiency



Konecranes' BOXHUNTER positions the operator's cabin near the ground for greater efficiency



Australia and New Zealand are heavily reliant on shipping containers for a lot of their trade. In 2012/13, the total number of containers leaving or arriving in Australia was over 7 million1 and in New Zealand it was just over 1.6 million2. In the highly competitive shipping and logistics industries, efficiency is vital in order to stay competitive.



Companies like Konecranes, which has 31 locations across Australia and New Zealand, make it their business to be on the forefront of ports technology, striving to provide its customers with the most advanced technology for optimal safety and efficiency.



For the demanding task of container handling, Konecranes' revolutionary new rubber tyre gantry (RTG) crane for ports industries, BOXHUNTER, greatly increases the operational efficiency and saves customers time in retrieving storage and shipping containers.



In a twist on traditional RTGs, BOXHUNTER has the cabin positioned at the bottom, so that the operator can enter quickly and begin retrieving the container. This adds up to a significant amount of time saved each day. Sophisticated video and laser scanning technologies mean that the operator no longer needs to be located at the top of the crane.



The first application of BOXHUNTER is already underway in Asia-Pacific, where CGM Myanmar, based in Yangon, is using shipping containers as a secure storage facility to save on the costs typically associated with brick and mortar facilities. BOXHUNTER can efficiently bring the storage container to the customer when they need to access their goods.



"The new 'heads up' approach allows the operator to work in the truck lane with direct line-of-sight to the main truck loading and unloading spots," says Konecranes. "Most of the hoisting machinery has also been brought down, simplifying the overall structure and improving ease of access. The trolley is also lighter, so the BOXHUNTER steel structure is less top-heavy. This makes for a lighter, nimbler drive experience in gantry travel."



"BOXHUNTER was designed with the needs of container terminal operators in mind. They were looking for the best levels of safety and efficiency, but often didn't need all the features of the top-of-the-range 16 wheel RTG," says Konecranes.



Konecranes has over 50 years' experience as world leader in ports and shipping cranes, which help to optimise the efficiency and safety of the ports, shipping, logistics and materials handling industries.



In the container yard, BOXHUNTER can stack one-over-five containers high, allowing for an extremely high density and cost-efficiency for customers. BOXHUNTER is capable of handling around 15+ container movements per hour, with high reliability and low downtime.



Mr Tun Tun Win, Owner and CEO of CGM, says, "With this business concept I can quickly and cheaply set up facilities and operations, and start serving customers at very competitive prices."



BOXHUNTER also features Konecranes' latest and most advanced counterweight technology, which brings down energy costs because it eliminates the weight of the spreader from every lift. On average, this amounts to a 25% lighter load with every lift.



To keep costs to a minimum, each BOXHUNTER is modular and standard to an unprecedented degree in the RTG world. There are minimal customisation options, because it has been designed for optimal performance and efficiency in the standard design, where customers simply select the drive and set the dimensions.



One thing that can be added on is Konecranes' TRUCONNECT® Remote Monitoring and Reporting, which gives real-time updates of crane usage so that service and maintenance can be planned according to actual need.



TRUCONNECT®'s remote connection is based on a diagnostic unit that collects detailed information from the crane and sends it back to Konecranes Remote Centre through a highly secured connection inside VPN tunnelling. The Remote Centre analyses and compiles the information into a report that users can view online.



For more information on BOXHUNTER, including videos, please visit the website:



boxhunter.konecranes.com



References



1 Ports Australia – http://www.portsaustralia.com.au/aus-ports-industry/trade-statistics/?id=5&period=13



2 Ministry of Transport NZ – http://www.transport.govt.nz/ourwork/tmif/freighttransportindustry/ft021/



Additional Information:

For more information in Australia/NZ, please contact:

Kandy Nguyen, Marketing Manager, Konecranes Australia

Ph: +61-2-8796-7666 Fax: +61-2-9605-4336

Email: sales.australia@konecranes.com

www.konecranes.com.au



Sales inquiries 1300 937637 (Australia wide) or visit our website www.konecranes.com.au



For inquiries about this media release, please contact:

Jack Mallen-Cooper at Whyte Public Relations Pty Ltd

Ph: +61-2-9901-4306 Email: whytepr@whytepr.com.au



About Konecranes, Inc.

Konecranes is a world-leading group of Lifting Businesses™, serving a broad range of customers, including manufacturing and process industries, shipyards, ports and terminals. Konecranes provides productivity-enhancing lifting solutions as well as services for lifting equipment and machine tools of all makes.



In 2013, Group sales totalled EUR 2,100 million. The Group has 11,800 employees, at 600 locations in 48 countries. Konecranes is listed on NASDAQ OMX Helsinki (symbol: KCR1V).

More from Electrical Equipment & Systems