RTD Thermometer System meets FDA standards.
Press Release Summary: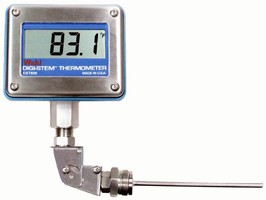 Wahl® DST600 uses thin-film platinum RTD sensor along with self-testing circuitry which continuously verifies electronics to ensure reading accuracy, rated ±0.3°F over -50 to +500°F temperature range. Offered as drop-in mercury-in-glass (MIG) thermometer replacement, solution is available with MIG standard tapered bulb chambers or variety of probe configurations. It meets FDA Proposed Rule change to 21 CFR Part 113 as well as current USDA 9CFR318.300 and 9CFR381.300 standards.
---
Original Press Release:

Wahl Introduces RTD Temperature-Indicating Device



For Retorts and All Temperature Critical Applications

Asheville, NC - July 23, 2008 - Wahl Instruments, Inc. is proud to announce the Wahl® DST600 RTD Thermometer System for use in Food Canning Retorts, Dairy, USDA, Pharmaceutical and other temperature critical applications. The Wahl DST600 is designed specifically to meet the Food and Drug Administration (FDA) Proposed Rule change to 21 CFR Part 113, which allows replacement of mercury-in-glass thermometers with other technologies. The patent pending Wahl DST600 complies with all aspects of this revision dated March 14, 2007 "ensuring accuracy during processing". It also meets current USDA 9CFR318.300 for canned meat and 9CFR381.300 for canned poultry products.

The Wahl DST600 uses a dependable, high stability, thin-film platinum RTD sensor along with patent pending self-testing circuitry which continuously verifies the electronics to ensure accurate readings. Probe Authorization, an exclusive safety feature, verifies that only the authorized probe is connected to the meter. Another key feature allows the user to "match" the meter and the probe to each other, by utilizing a programmable RØ calibration coefficient for increased accuracy. Together, these features guarantee an accurate and secure system. Total system accuracy is ±0.3°F (±0.2°C) over a 1-year period. Temperature range is -50° to 500°F (-45.5° to 260°C).

The Wahl DST600 is the most accurate and reliable thermometer system on the market today. It has a field replaceable battery with a 2-year life, and provides a trustworthy alternative to mercury-in-glass (MIG) thermometers, with a drop-in direct MIG replacement. It is available with MIG standard tapered bulb chambers, or a variety of probe configurations, including remote probes with rugged IP68 connection system for easy installation and calibration of the entire system. Remote probes have a Quick Disconnect option allowing the user to remove the probe and meter for calibration without removing the permanently installed cable. The device is also available with an Adjustable Angle feature which can position the display to the best reading angle, or special configurations can be supplied for tight fit installations. Custom built probes are also available.

The Wahl DST600 is shipped standard with NIST Certification to establish your FDA documentation requirement, and carries a two-year warranty on parts and labor. Optional software kits are available for programming and calibration.

For additional information please contact us at sales@palmerwahl.com or call 1-800-421-2853, fax 828-658-0728. Write to Palmer Wahl, 234 Old Weaverville Road, Asheville, NC 28804.

About Palmer Wahl
Palmer Instruments, started as America's first thermometer company in Cincinnati, OH in 1836. Since that time, Palmer has steadily evolved through product development geared exclusively towards industrial process measurement, test and calibration. Wahl Instruments founded in Culver City, CA, in 1953, manufactured precision temperature instruments for industry, and developed the first portable digital platinum-RTD contact thermometer system. Since then, Wahl has introduced many technical innovations in portable temperature instruments.

Together Palmer Wahl, with over 172 years of continuous product innovation, offers the finest selection of Industrial Instrumentation products in the world, and is uniquely qualified to provide application/technical support, installation, calibration services and product selection from an extensive line of the finest instrumentation products. For more information, visit www.palmerwahl.com.

More from Agricultural & Farming Products