RS485 Transceivers include switchable termination.
Press Release Summary: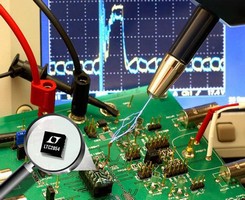 Suited for operation in systems with 3.3 V supplies, LTC2854/LTC2855 are RS485 transceivers with switchable, integrated termination, while LTC2850/LTC2851/LTC2852 offer industry standard pinouts and support maximum data rate of 20 Mbps. Enhanced ESD protection allows interface pins of LTC2854 to withstand up to ±25 kV (Human Body Model) without latchup or damage, other devices withstand up to ±15 kV. All receivers have 1/8 unit load, supporting up to 256 devices on bus.
---
Original Press Release:

±25kV ESD 3.3V RS485 Transceivers Include Switchable Termination



MILPITAS, CA - February 28, 2007 - Linear Technology Corporation introduces two new families of RS485 transceivers for operation in systems with 3.3V supplies. The LTC2854/LTC2855 are RS485 transceivers with switchable, integrated termination, while the LTC2850/LTC2851/LTC2852 offer industry standard pinouts and support a maximum data rate of 20Mbps. Enhanced ESD protection allows the interface pins of the LTC2854 to withstand up to ±25kV (Human Body Model) without latchup or damage and up to ±15kV for the other parts in the families, making them ideal for rugged industrial and automotive applications.

All receivers have a one-eighth unit load, supporting up to 256 devices on the bus, while all drivers maintain high output impedance over the entire common mode range when disabled or when the supply is removed. Excessive power dissipation caused by bus contention or a fault is prevented by current limiting on all outputs and by thermal shutdown.

The LTC2854/LTC2855 complement the existing LTC2859/LTC2861 RS485 transceivers which operate from 5V supplies. RS485 networks require 120 Ohm termination resistors to be installed by the end user based on the physical layout of the twisted-pair wires and the placement of the nodes. If the bus is extended or reconfigured, the termination must be changed again by the end user. This new family of transceivers allows the proper nodes to be terminated without the end user's physical intervention by switching the integrated termination on or off under software control. These features provide more functionality than existing RS485 transceivers, yet reduce the overall solution size by fully integrating the termination resistor and transceiver into a tiny DFN package.

The LTC2850 operates in half-duplex mode and the LTC2851/LTC2852 support
full-duplex operation. Packages include 8-lead and 10-lead 3mm x 3mm DFN, 8-lead and
10-lead MSOP, and 8-lead and 14-lead SO packages. The LTC2854 operates in half-duplex mode and is offered in a 10-lead 3mm x 3mm DFN package. The LTC2855 supports full-duplex operation and is offered in 12-lead 4mm x 3mm DFN and 16-lead SSOP packages.
Specified over the commercial and industrial temperature ranges and available from stock, pricing begins at $1.45 each in 1,000-piece quantities.

Summary of Features: LTC2850/LTC2851/LTC2852 & LTC2854/LTC2855

· 3.3V Supply Voltage
· Integrated, Logic-Selectable 120 Ohm Termination Resistor (LTC2854/LTC2855)
· 20Mbps Maximum Data Rate
· No Damage or Latchup up to ±25kV HBM ESD (LTC2854)
· High Input Impedance Supports 256 Nodes
· Guaranteed Failsafe Receiver Operation Over the Entire Common Mode Range
· 8-Pin & 10-Pin 3mm x 3mm DFN, 8-Pin & 10-Pin MSOP & 8-Pin & 14-Pin SO Packages (LTC2850/LTC2851/LTC2852)
· 10-Pin 3mm x 3mm DFN (LTC2854), 12-Pin 4mm x 3mm DFN & 16-Pin SSOP Packages (LTC2855)

About Linear Technology
Linear Technology Corporation, a manufacturer of high performance linear integrated circuits, was founded in 1981, became a public company in 1986 and joined the S&P 500 index of major public companies in 2000. Linear Technology products include high performance amplifiers, comparators, voltage references, monolithic filters, linear regulators, DC-DC converters, battery chargers, data converters, communications interface circuits, RF signal conditioning circuits, and many other analog functions. Applications for Linear Technology's high performance circuits include telecommunications, cellular telephones, networking products such as optical switches, notebook and desktop computers, computer peripherals, video/multimedia, industrial instrumentation, security monitoring devices, high-end consumer products such as digital cameras and MP3 players, complex medical devices, automotive electronics, factory automation, process control, and military and space systems. For more information, visit www.linear.com

LT, LTC, LTM, Burst Mode and are registered trademarks of Linear Technology Corp.

John Hamburger, Director Marketing Communications
jhamburger@linear.com
Tel 408-432-1900 ext 2419

Doug Dickinson, Media Relations Manager
ddickinson@linear.com
408-432-1900 ext 2233

More from Electrical Equipment & Systems