Royal Caribbean International Upgrades Ship Productions with Broadcast Pix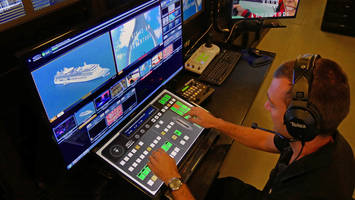 Chelmsford, Mass. – Jan. 30, 2018 – Broadcast Pix™ today announced Royal Caribbean International upgraded two of its cruise ships last year with Mica™ integrated production switchers. The new systems are used during cruises to produce multi-camera coverage of various events, which are broadcast live across the ship and replayed throughout the voyage.
When Serenade of the Seas was in dry dock in November, Royal Caribbean updated its Broadcast Pix system as well as its router to create a full HD production workflow. Mariner of the Seas received a similar Mica upgrade during its dry dock earlier in the year. Techno Systems in Hialeah, Fla., installed the new video equipment.
On each ship, the Mica anchors a broadcast control center, which essentially serves as the control room and headend. Throughout the cruise, a small video team provides coverage of events in the main theater and other areas of the ship.
"We're pretty much running a TV station," said Selvyn Phinn, fleet broadcast technical specialist, entertainment, Royal Caribbean International. "It's an integral part of our business. We use our Broadcast Pix switchers quite a bit."
For example, a "Welcome Aboard" show, which happens on the first night of every cruise, is recorded and distributed live to various venues throughout the ship, then replayed on one of the ship's in-house channels. Other activities, such as scheduled games between guests around the pool area, are also recorded and replayed.
Phinn said the Mica is used to store and replay video clips for on-board entertainers during their acts. Plus, when groups invite guest speakers on cruises, the Mica can switch between presenters and their PowerPoint presentations.
All Royal Caribbean operators use the built-in BPview™ customizable multi-view, and the two new Mica installations are using touchscreen controls instead of traditional control panels. Phinn said the Mica's Watch-Folders media management system saves a lot of time transferring files directly to the switcher's integrated clip store.
"It's a fantastic switcher for us because it incorporates so many tools," Phinn added. "That saves us money, and I think it makes our operations easier to manage."
Video resources vary by the size of the ship. Serenade of the Seas, for example, has six PTZ cameras, including four in the main theater, one at the pool deck, and one bridge camera that always looks straight out to sea. In contrast, Harmony of the Seas, one of the largest passenger ships in the world, boasts 20 cameras in various locations across the ship. Both ships also have handheld cameras for use with different productions.
Royal Caribbean has been installing Broadcast Pix systems throughout its fleet for years. Harmony of the Seas and Ovation of the Seas were outfitted with Granite™ switchers in 2016, while other ships in the fleet received Broadcast Pix upgrades in 2014 and 2015.
About Broadcast Pix Founded in 2002, Broadcast Pix provides integrated live video production switchers with the best control. From compact mobile units to large-scale solutions, every Broadcast Pix features patented control and automation technology that make it easy to optimize and customize your workflows. With customers in more than 100 countries, Broadcast Pix is the leader in totally integrated production switchers for broadcast, streaming, live event, and visual radio applications. Its BPNet ioGates media management products are used by leading broadcasters and production houses. Learn more at www.broadcastpix.com.
Related