Rovema Offers BVC 145 TwinTube Form-Fill-Seal Machine That Produces Up to 500 Bags Per Minute
Press Release Summary: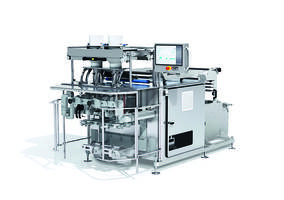 The BVC 145 TwinTube Form-Fill-Seal Machine features separate film drive control on each side of the machine. The machine is embedded with Sense and Seal technology for detecting products in the seal area to prevent poorly or incompletely sealed bags. It is offered with swiveling double safety doors and come in 2.85 m x 1.325 m footprint. The unit produces bags up to 45 mm wide and 220 mm long and allows adjustment of sealing force individually on each side.
---
Original Press Release:
Rovema NA Introduces TwinTube Form-Fill-Seal Machine for Sweets and Snacks
Compact, Continuous Motion BVC 145 TwinTube Produces up to 500 bags per minute
NORCROSS, GA. (PRWEB) JANUARY 17, 2019 - Rovema North America – a subsidiary of Rovema GmbH, which designs and supplies packaging machinery for the food industry – has introduced a twintube form-fill-seal (FFS) machine for the packaging of confectionary and snack products. The company's new BVC 145 TwinTube is a continuous motion unit producing up to 500 bags per minute in a footprint of only 2.85m x 1.325m. The unit produces bags up to 145mm wide and 220mm long, with options to upgrade up to 320mm.
The BVC 145 TwinTube is defined by its namesake two-for-one manufacturing process: following the infeed of packaging materials from a single film roll, the material is subsequently slit into two film webs capable of forming, filling and sealing 250 finished bags per minute. The machine also offers the option of packaging material infeed along two separate film rolls. In either setup, automatic edge control allows for repeatable format changeover and a very tight tolerance on the longitudinal seal.
Each of the BVC 145 TwinTube's two sides has separate film drive control, which guarantees exact bag lengths. Further sealing force can be adjusted individually on each side, allowing processing of various packaging materials with optimum seal quality. In addition, incorporating a hole punch is possible without reducing the output rate.
The continuous motion BVC 145 TwinTube is equipped with Rovema's proven Sense & Seal technology, which detects products in the seal area to prevent poorly or incompletely sealed bags. Product detection, including defect rejection, works entirely independently on both sides; while discharging on side one, side two can continue production without constraints – this reduces the number of defective bags by 50%.
The BVC 145 TwinTube's controls are fully integrated into the machine housing, and the control cabinet can be pulled out completely. Swiveling double safety doors can be fully opened for access to the machine's working area, and the reel carrier completely opens on all sides to offer optimal access for cleaning, maintenance or adjustments.
A variety of options are available for the BVC 145 Twin Tube machine, including a fully integrated labeler and printer, and product gassing for extended shelf life.
"The new BVC 145 TwinTube offers high speed bag production that limits defect interruptions in a comparably compact footprint," said John Panaseny, president of Rovema NA. "The machine's low construction height is ideal for production facilities with low ceilings, and its ergonomic design offers easy access to all necessary components for increased availability."
About Rovema North America, Inc. 
Rovema NA is a wholly owned subsidiary of Rovema GmbH. Our operation in Atlanta is the North American sales, service and parts presence for all of Rovema's engineered vertical form/fill/seal and end-of-line packaging solutions.
With over 1,100 machines installed in North America we're fully committed to the ongoing support of our machines. Although occasionally certain drive or control components are obsoleted by our suppliers, we provide all available parts and ongoing technical support for any operating Rovema machine.
Our team in Norcross is combining German quality & engineering with American market awareness and responsiveness. All our machines are built under a single roof (not a global master brand) and we're aggressively building our staff to meet growing demand. http://www.rovema-na.com.
Contact Information
Christopher Dale
Turchette Agency
+1 973-227-8080 Ext: 116
More from Mounting & Attaching Products