Rousseau's Famed Innovation Continues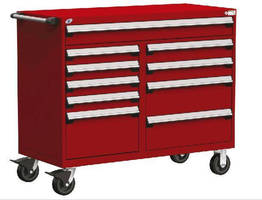 Rousseau proudly launched its new 54" wide cabinet on February 29. As every customer and their needs are unique, Rousseau constantly seeks to provide true solutions to their daily challenges. This new dimension is one such example.



54" wide "R" cabinets offer more options for single and multi-drawer heavy-duty cabinet layouts.  Similarly, the newly launched 18" wide drawer opens a world of possibilities for multi-drawer cabinets.  For example, it's now possible to combine 18" and 30" drawers in a 48" wide cabinet, 18" and 36" drawers in a 54" wide cabinet, and 18" and 42" drawers in a 60" wide cabinet.



This latest dimension complements the wide range of dimensions already available. Rousseau now offers 22 different drawer dimensions in 10 different heights. In addition to the many drawers, 6 different "R" cabinet widths are available, not to mention all the various depths and heights on offer. With Rousseau, it's always a perfect fit.



For more details on the range of dimensions available, please visit www.rousseaumetal.com.

More from Architectural & Civil Engineering Products