Rouse Frets Implements Intelligent RMS Software from EDZ Systems a New Modern ERP Platform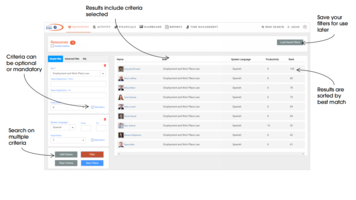 Intelligent RMS centralizes critical firm data to streamline business development and provide an "at-a-glance" status tool to improve practice efficiency and enhance client service.
KANSAS CITY, MO. (PRWEB) SEPTEMBER 07, 2019 - Rouse Frets White Goss Gentile Rhodes, P.C. implements EDZ Systems' Intelligent Resource Management SystemTM (Intelligent RMSTM).
The legal industry is constantly changing. Increased competition and escalating client demands create the need for an approach that helps you PLAN for growth, PREDICT firm and client needs and PREVENT unwanted financial surprises. Intelligent RMS streamlines responding to new business opportunities using a configurable RFP generation process providing a customized RFP package including attorney biographies, a firm overview, and practices areas summaries, by using a step-by-step wizard. This allows firms to quickly present the information in consistent and timely responses.
Intelligent RMSTM helps firms predict and project changes in staffing needs using the tools' Availability vs Demand capabilities. Intelligent RMS maximizes understanding your client's needs with AI backed actionable insights that expose information relevant to making growth decisions that truly sets it apart from other systems today.
"Rouse Frets selected Intelligent RMS as a strategic platform to enable on-demand access to resource, client, and matter information, and quickly respond to new business opportunities." said Elizabeth DeZeeuw, President and CEO of EDZ Systems. "Intelligent RMS is a product that can change the way law firms do business and communicate, both internally and with clients."
"Intelligent RMS is a powerful, strategic platform that was easily integrated with our in-house and third-party tools," said Doug Doerfler, COO of Rouse Frets White Goss Gentile Rhodes, P.C. "Like many law firms, we were searching for a solution that would integrate systems and provide tools to better enable us to be responsive to the needs of the firm and its clients."
About Rouse Frets
Rouse Frets White Goss Gentile Rhodes serves and protects individuals, companies, estates and livelihoods. Based in Kansas City, the firm offers sophisticated representation in both the private and public sectors. Its clients benefit from blue-ribbon talent unencumbered by mega firm business models. For more, visit http://www.rousepc.com.
About EDZ Systems
EDZ Systems is a certified minority and woman-owned software solutions firm providing Software Development, Strategic Consulting and Staff Augmentation Services as well as proprietary software products. EDZ Systems delivers modern and holistic technology solutions that help businesses make better resource and financial decisions. EDZ Systems partners with its customers to drive enhanced productivity, strengthen resource and financial management and improve operational results. Learn more at: http://www.EDZSystems.com.
Contact Information
Mikita Burton
EDZ Systems
+1 913-908-8778