Round Knife Cutters/Slitters handle composites, textiles.
Press Release Summary: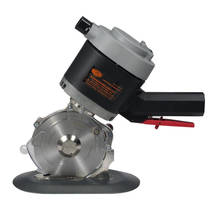 Electric round knife cutter, TASW12M, handles composite materials and soft materials up to 2 in. Torque produced by 350 W motor, combined with knife's RPM, allows cutting of rubber- and plastic-based material. Also available, TADD120DT direct-drive, bidirectional slitter consists of electric, 3-phase round knife (8-sided, 120 mm) cutter for high-speed technical textile and composite cutting. Pushbutton knife-edge sharpening on both models takes < 10 sec and does not require knife removal.
---
Original Press Release:
Powerful Monster and Direct Drive Slitters
Super Duty Electric Round Knife Cutter

TASW12M: The most powerful cutting tool for Technical Textiles and Composites!

The TASW12M is especially suitable for cutting composite materials like glass fiber, carbon fiber, Aramid or any soft material up to 2" (50mm) thick. The impressive 350-Watt motor creates high torque, which combined with the slow RPM of the knife allows cutting of rubber and plastic based material. It is often used in the carpet and industrial flooring fields.

The push button sharpening stone allows the sharpening of the knife-edge to be done in less than 10 seconds without removing the knife.

Direct-Drive Bi-directional Slitter
Electric 3-Phase Round Knife Cutter

TADD120DT: Our professional cutting unit for high-speed cutting in Technical Textile and Composite applications allows you to use both hands to feed the material through the blade.

The TADD120DT is able to cut both directions (through an inverter). The 8-sided 120 mm knife allows a cutting thickness up to 2" (50mm), even for multiple layers. It is direct drive (has no coupling gear), which means no maintenance, reducing operation costs. The model is widely applied in textile, technical fabrics or composite material fields. It can even cut many rubber and plastic-based materials. The knife can reach a speed of 2600 RPM, perfect for working at very high speed during non-stop 24h/7 day cutting.The push button sharpening stone allows the sharpening of the knife-edge in less than 10 seconds without removing the knife.

Visit www.abbeon.com
800.922.0977
Related