Roughness Measuring Unit features smart, mobile design.
Press Release Summary: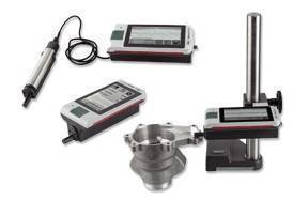 Using smartphone-like 4.3 in. TFT touchscreen display, MarSurf® PS 10 measures 31 roughness parameters, offers list of favorite functions, and provides laboratory-level performance on shop floor. Measuring unit is intended for roughness testing in and on machine while in production. Measuring data can be saved in TXT, X3P, CSV, or PDF formats as finished measuring records with no additional software. Recharging in 1.5 hours, battery pack enables over 1,200 measurements/charge.
---
Original Press Release:
Mahr to Introduce New MarSurf® PS 10 Roughness Measuring Unit at IMTS 2016
-- Easy, smart and mobile, new generation design brings smartphone operation and laboratory performance to the shop floor

PROVIDENCE, RI – Mahr will introduce the new MarSurf® PS 10 Roughness Measuring Unit at IMTS 2016, September 12-17, 2016, McCormick Place, Chicago, IL, Booth #E-5614. The MarSurf PS 10 from Mahr is a practical roughness measuring unit for mobile use. Using a smartphone-like 4.3" TFT touch screen display, operation is fast, intuitive and user-friendly. The new generation MarSurf PS 10 design measures 31 roughness parameters, offers a convenient list of "favorite" functions in the display, and provides laboratory level performance on the shop floor.

"The portable MarSurf PS 10 offers a perfect entry into the world of surface measurement," said George Schuetz, Director Precision Gages for Mahr Federal. "Weighing in at just a pound, the unit's display adjusts to allow users to measure in all positions – horizontally, vertically or upside down. In addition, the unit can be mounted on a measuring stand to provide a stationary roughness measuring instrument for small workshops."

The measuring unit is intended for quick roughness testing in and on a machine while in production. It is excellent for use in quality assurance of milled and turned parts, ground and honed workpieces, on large machines, large workpieces, or for use with incoming inspection. The only mobile measuring device on the market with auto cutoff selection, the MarSurf PS 10 ensures proper measurement results even by the non-metrologist.

The range of measuring applications is expanded by the ability to remove the drive unit from the MarSurf PS 10 and operate it separately from the display, providing the user with more flexibility. The drive also incorporates built-in "Vees" to support small diameter parts during the measurement cycle. Optional probes for different measuring tasks allow for the measurement of gears and deep measuring points such as in grooves or bores. The large battery pack recharges in 1.5 hours and enables over 1,200 measurements per charge.

Measuring data from the MarSurf PS 10 can be saved in TXT, X3P, CSV, or PDF formats as finished measuring records with no additional software. A Mahr calibration certificate is included in the scope of delivery, and error-free measurements are made possible by the integrated and removable calibration standard. When combined with Mahr eStick wireless data transmission, data collection becomes seamless with MarCom software.

Mahr Federal Inc., a member of the Mahr Group, has over 150 years of experience providing dimensional measurement solutions to fit customer application needs. The company manufactures and markets a wide variety of dimensional metrology equipment, from simple and easy-to-use handheld gages to technically advanced measurement systems for form, contour, surface finish and length. Mahr Federal is also well known as a producer of custom-designed gages and a provider of calibration and contract measurement services. Mahr Federal's calibration laboratories are accredited to ISO/IEC 17025:2005 NVLAP Lab Code 200605-0 (see our Scope of Accreditation for accredited calibration processes). For more information visit http://www.mahr.com.

For additional information, contact:
Marketing
Mahr Federal Inc.
1144 Eddy Street
Providence, RI 02905 USA
Tel: (800) 343-2050 or (401) 784-3100
Email: mkt.nafta@mahr.com
Web site: http://www.mahr.com
More from Agricultural & Farming Products