Roughness Gage checks surface finish.
Press Release Summary: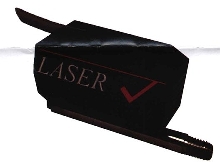 Compact Lasercheck(R) makes noncontact surface finish measurements on any material or color, including rubber, glass, and steel. It has no moving parts, and withstands contaminants, moisture, and rough shop-floor handling. It includes compact 3.0 x 1.4 x 1.75 in. portable head that weighs less than 1 lb. RS232 interface port on electronics control box can upload measurement data to SPC and other database software.
---
Original Press Release:

Lasercheck(R) Non-Contact Surface Roughness Gage With Improved Repeatability


Upgraded electronics and software now make Lasercheck(R) the most repeatable surface finish measurement gage available. Surface finish measurements with repeatability of just a few hundredths of one microinch can now be routinely performed with Lasercheck(R). No contact stylus measurement gage comes close to this level of performance.

The compact Lasercheck(R) performs fast, precise, Non-Contact Surface Roughness measurements. Lasercheck(R) - is the most durable and shop-hardened surface roughness gage available. Lasercheck(R) has no moving parts. This eliminates all of the constant costs required with the use of contact stylus gages including maintenance, regular calibration and frequent purchase of expensive replacement stylus tips and fragile moving parts. Lasercheck(R) withstands contaminants, moisture, and rough shop-floor handling. No other surface roughness measurement gage can survive rough handling and usage like Lasercheck(R).

Lasercheck(R) non-contact measurements work on any material or color (rubber, glass, steel, etc.). The system includes a compact 3.0 X 1.4 X 1.75 inch portable head that weighs less than one pound. An RS232 interface port is provided on the electronics control box to upload measurement data to SPC and other popular database software. Optional electronics are available which allow complete automation of measurements in high volume surface critical operations.

Optical Dimen$ions, LLC; 25422 Trabuco Rd, #105-435; Lake Forest CA 92630; Phone (949) 768-0405 - Fax (949) 768-0419 - opticaldimensions.com; Email: [email protected]