Emergency / Disaster Relief Shelters
Rotational Molding Company Granger Plastics Issues Tornado Shelter Patent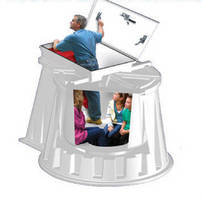 The Granger Plastics Company is known around the World for innovative design and engineering in the Rotational Molding industry. The Inground Safety Shelter is a prime example of this work. This Granger ISS Tornado Shelter has many features including a 500+ year life span, molded seating, articulating handrails, gas assisted shock and FEMA 320 testing. One of the most original features is the reverse taper design of the shelter which in a typical installation allows for the Granger ISS Tornado Shelter to be installed in most installations without an anchoring system.

Granger Plastics has been issued Patent # D610,701 in reference to the Inground Safety Shelter. This patent protects the design and features that set this shelter apart from the competition. When it comes to protecting your family you can trust the Granger ISS to be the top of the line in safety and durability. Don't settle for less; get the best safety bet with the patented design of the Granger ISS.

The Granger Plastics Company prides itself on pioneering innovations of the Rotational Molding process. They are an internationally recognized leader in the Rotational Molding Industry specializing in custom products with a long life span. To learn more about the Granger ISS and the many other products of Granger Plastics Company please visit www.grangerplastics.com .


More from Electrical Equipment & Systems