Rotary Valves Earn USDA Certification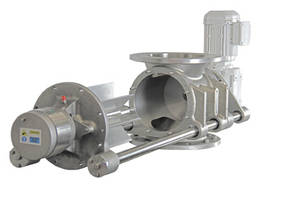 Hygienic Gericke RotaVal Line Meets Requirements for Sanitary Processing
Somerset, NJ: Hygienic valves in the RotaVal line from process equipment manufacturer Gericke USA, Somerset, NJ (www.gerickegroup.com), have earned USDA certification for use in dairy processing. Issued by the U.S. Department of Agriculture, Dairy Grading Branch, Equipment Design Review Section, the certification documents the company's HDMF Series rotary valves comply with USDA Guidelines for the Sanitary Design and Fabrication of Dairy Processing Equipment and may be specified and installed in sanitary processes. The HDMF Series valves feature stainless steel construction with polished internals and externals in a novel design that prevents the formation of dead spots or dead zones that could trap product, harbor bacteria and promote contamination.
Comprising six models in a wide choice of configurations, the food-grade HDMF Series valves are set on a sliding guide rail system with dual, removable end covers to allow full access to the interior for complete cleaning without removal from the processing line. The sanitary valves thrive in Clean-In-Place (CIP) environments and are offered with Hastelloy, PTFE and a variety of coatings as options. The hygienic valves also include the company's proprietary RotaSafe system, which automatically detects if the rotor contacts the valve housing, cuts power to the motor, and signals for maintenance to prevent premature wear.
For more information, contact Gericke USA, Inc., 14 Worlds Fair Dr. Suite C, Somerset, NJ 08873-1364; 855 888-0088; [email protected]; or see www.GerickeGroup.com.
Media Contact:
Rene Meira Medina
855 888-0088 Ext. 805